General Election Alert!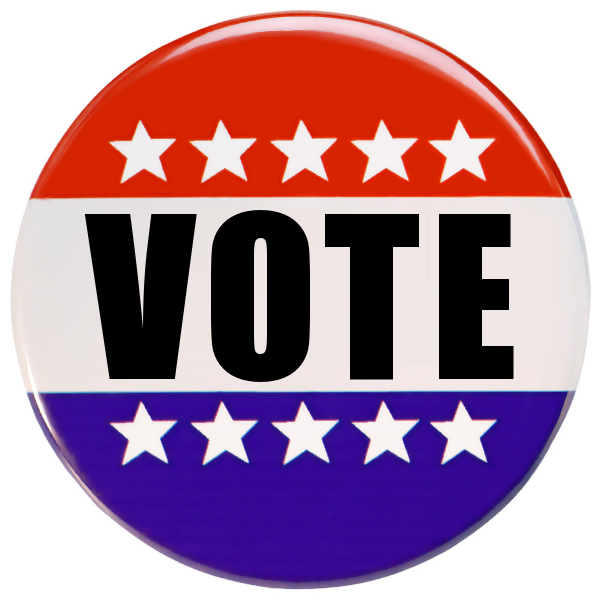 With the General Election less than 3 weeks away, all Patriots must rally behind our candidates and do everything we can to get our friends and family to vote. Early voting starts next Monday, October 24 so readers are urged to organize a trip to one of the five early voting polling places with as many acquaintances you know. And, this newsletter contains scores of valuable information - voting recommendation and opportunities for Poll Watching, Door Knocking and Phone Banking - that will ensure victory on Election Day. So it is now more important than ever to share this newsletter with everyone you know. Please do so today!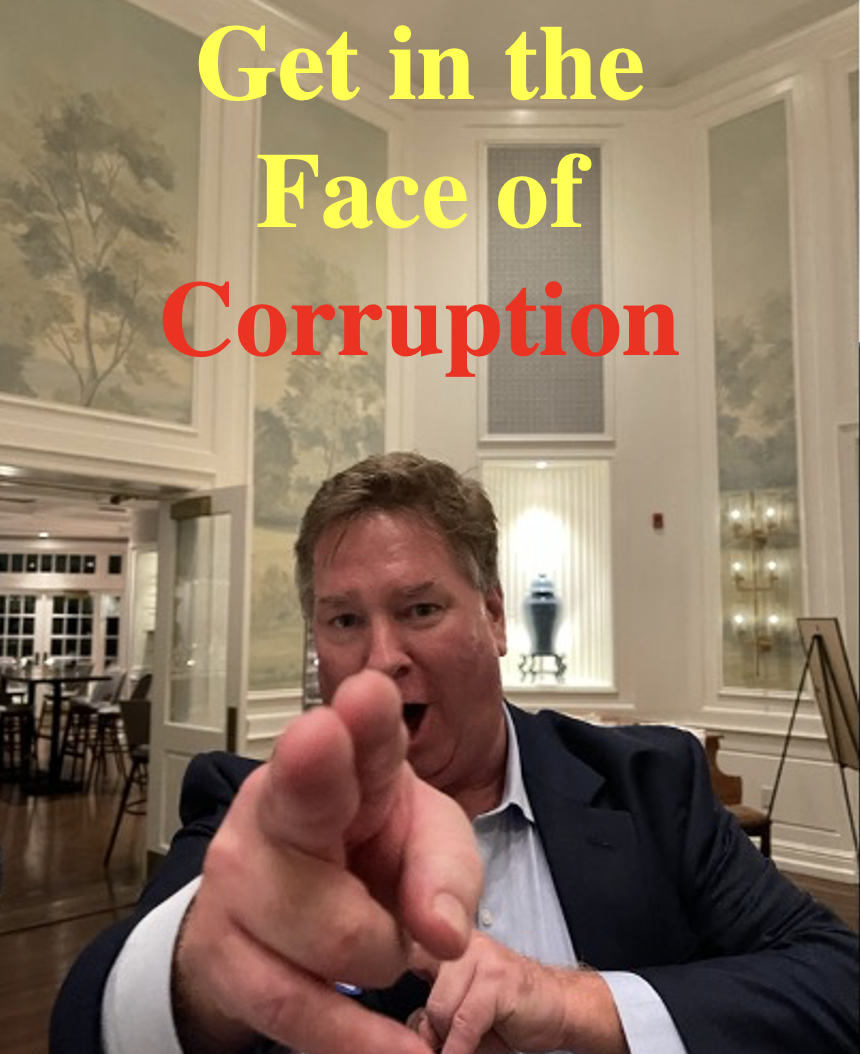 "President Trump will be arrested on October 30..."
"There will be 10 days of darkness after which everything will be revealed..."
"October 29 will be a special day for the Deep State..."
These and a host of other predictions were revealed last Tuesday night by author James Grundvig. This riveting presentation can be viewed on the Past Meeting Videos page on our website. To go there now, just click here. The presentation slides may also be downloaded from the Downloads page from (you guessed it!) our website which may be accessed by clicking here.
Next week we will be hosting a Candidate Roundtable. This will be a great opportunity for you to meet and discuss issues with candidates one-on-one. The event proved quite popular during the run up to the Primary Elections and should be just as lively next Tuesday.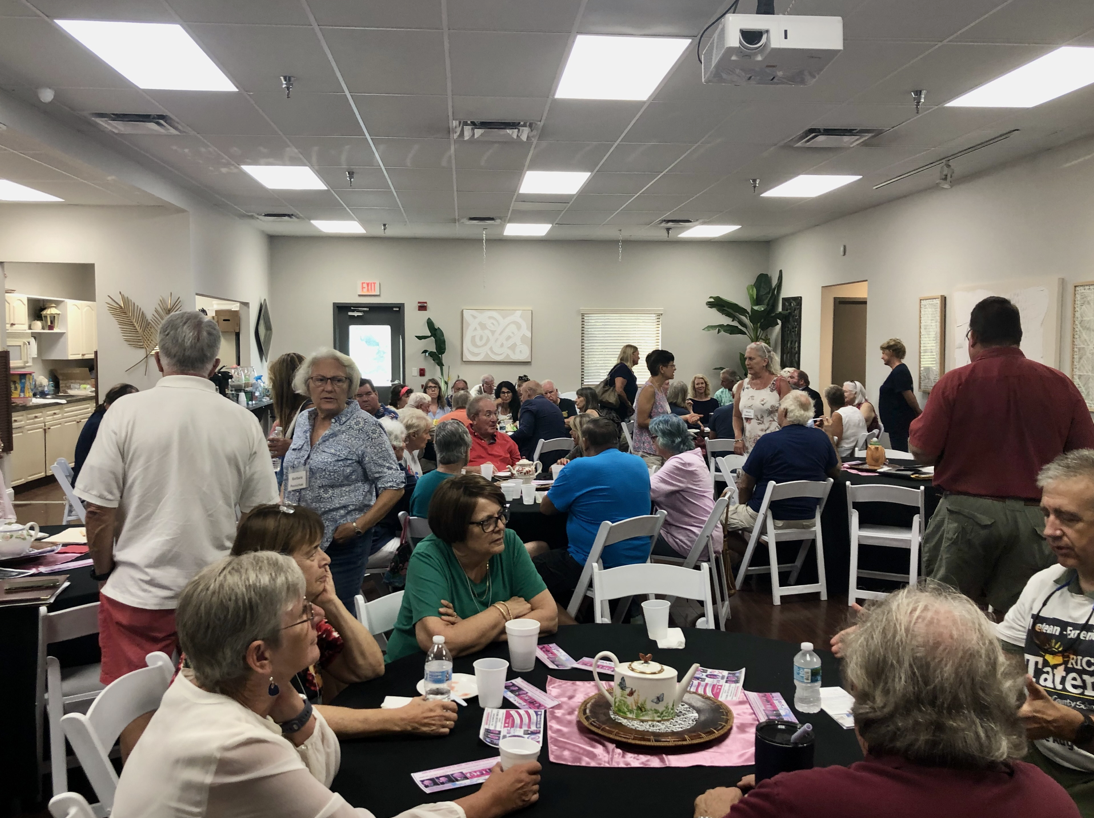 In this Email
A Fireside Chat with Jack May on the Upcoming General Election
The Winnable Battle in District 2
Join Us for Super Saturday for Amanda Ballard This Saturday
Manatee Patriots Recommendations on Constitutional Amendments and Judicial Retention Now Available
An Alternate View On Judicial Retention - Just Vote No!
And Yet Another View On Judicial Retention
Calling All Patriots! Become a Poll Watcher on Election Day!
Support All Our Republican Candidates
Manatee County Faith and Freedom Rally
Fundraising Event for Gov. Ron DeSantis, October 21
Join Us for Oktoberfest 2022
Next Meeting Details:
What: Candidate Roundtable
When: Tuesday, October 25 at 6pm
Where: Mixon Fruit Farms
2525 27th Street East, Bradenton, FL 34208
A Fireside Chat with Jack May on the Upcoming General Election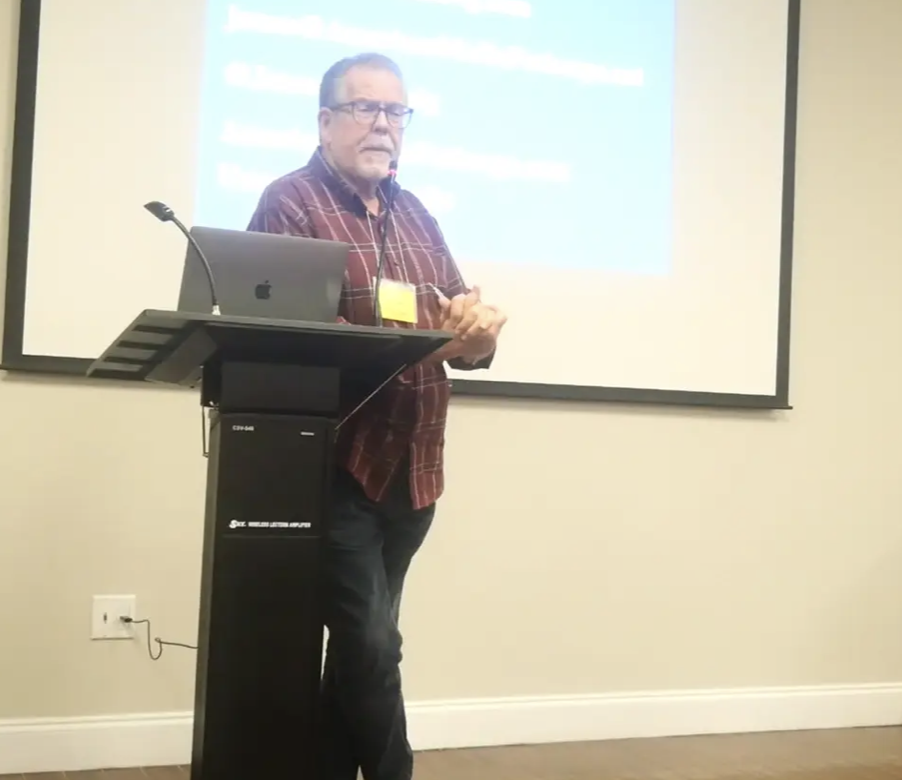 Manatee Patriots President and MC extraordinaire Jack May delivered an impassioned monologue Tuesday night after James Grundvig's sensational presentation. In it, Jack made a reasoned and compelling argument for supporting our Republican candidates in the upcoming General Election and explained that victory is in our hands. If we do not support our Republican candidates with our votes, Democrats will become pivotal members of both the Board of County Commissioners and especially the Manatee County School Board. Jack's entire appeal has been uploaded to the Past Meetings Video page as well and may be viewed by clicking on the above image.
The Winnable Battle in District 2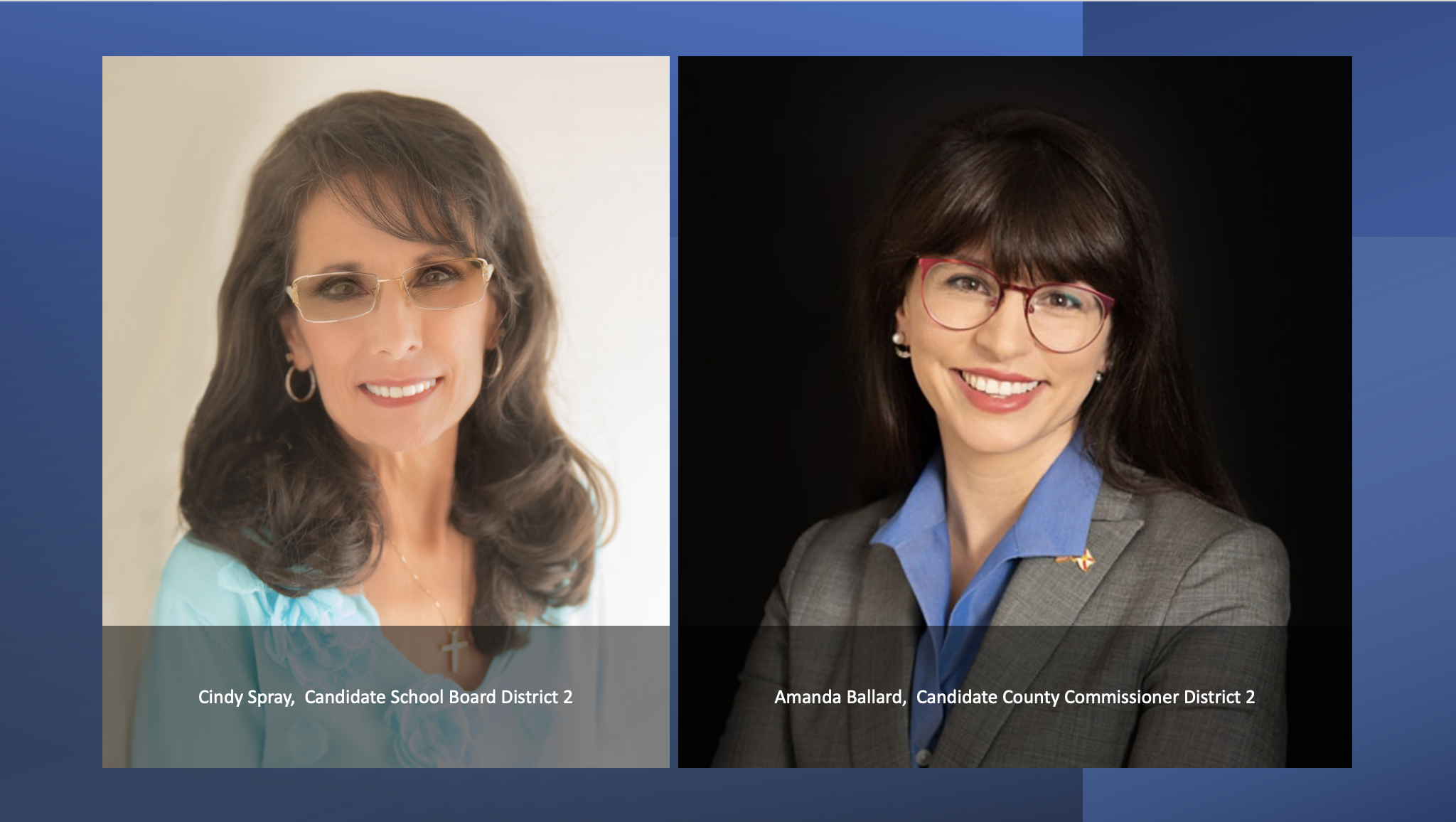 In our last newsletter we mentioned that during the Primary Election close to 50% of Republicans and 70% of Democrat voters cast their votes using Vote By Mail (VBM) ballots. We also reported that Republican voter VBM returns were outpacing those of Democrats. Looking at the most recent data from Mike Bennett's office (October 19, 2022) we see that the gap between Republican and Democrat VBM turnout has tightened county-wide but both Amanda's District 2 race for County Commissioner, and Cindy's race for Manatee County School Board District 2 still maintain a huge gap in favor of Republican voters!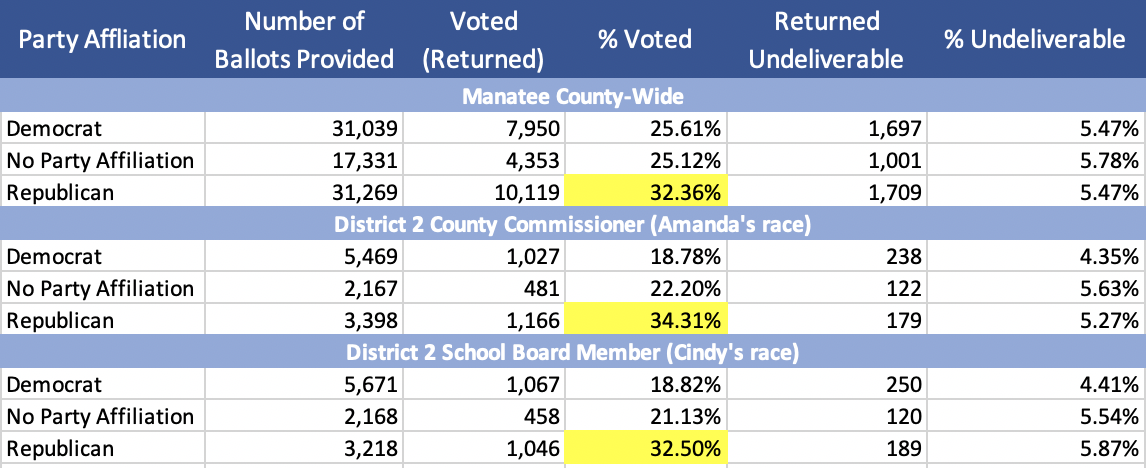 Clearly there is momentum here for both Cindy and Amanda. But they cannot pull off a political upset without your help. So all Manatee Patriots subscribers are urged to do the following for our District 2 candidates:
For Amanda:
The RPOF Florida Victory campaign has organized a "Super Saturday" of Door Knocking this Saturday, October 22. For details and to sign up, see the flyer below.
For Cindy:
Early voting starts next Monday, October 24. Cindy has established information sites at the Palmetto Library and the Supervisor of Elections office for handing out candidate literature. You are urged to sign up at either or both of these locations using the button below:
Join Us for Super Saturday for Amanda Ballard This Saturday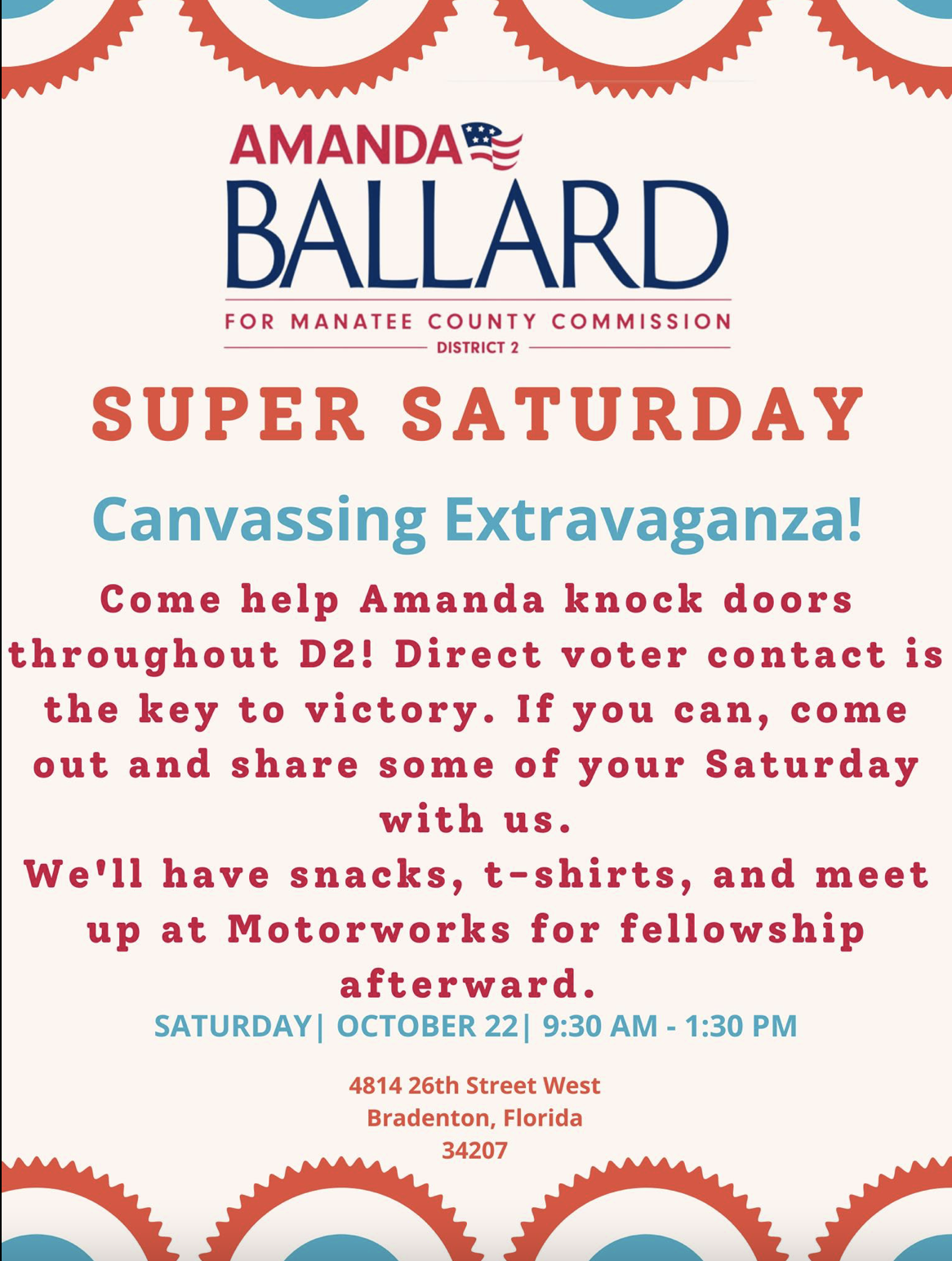 .

To participate, all you need to do is to:
The RPOF will provide you with further details once you are registered.
So come on out, enjoy the fine Fall weather and help Amanda win in November!
Manatee Patriots Recommendations on Constitutional Amendments and Judicial Retention Now Available!
We are pleased to announce that the Manatee Patriots Board of Directors have published their recommendations on Constitutional Amendments and Judicial Retention issues on the 2022 General Election ballot. This key document may be viewed by clicking on the image below.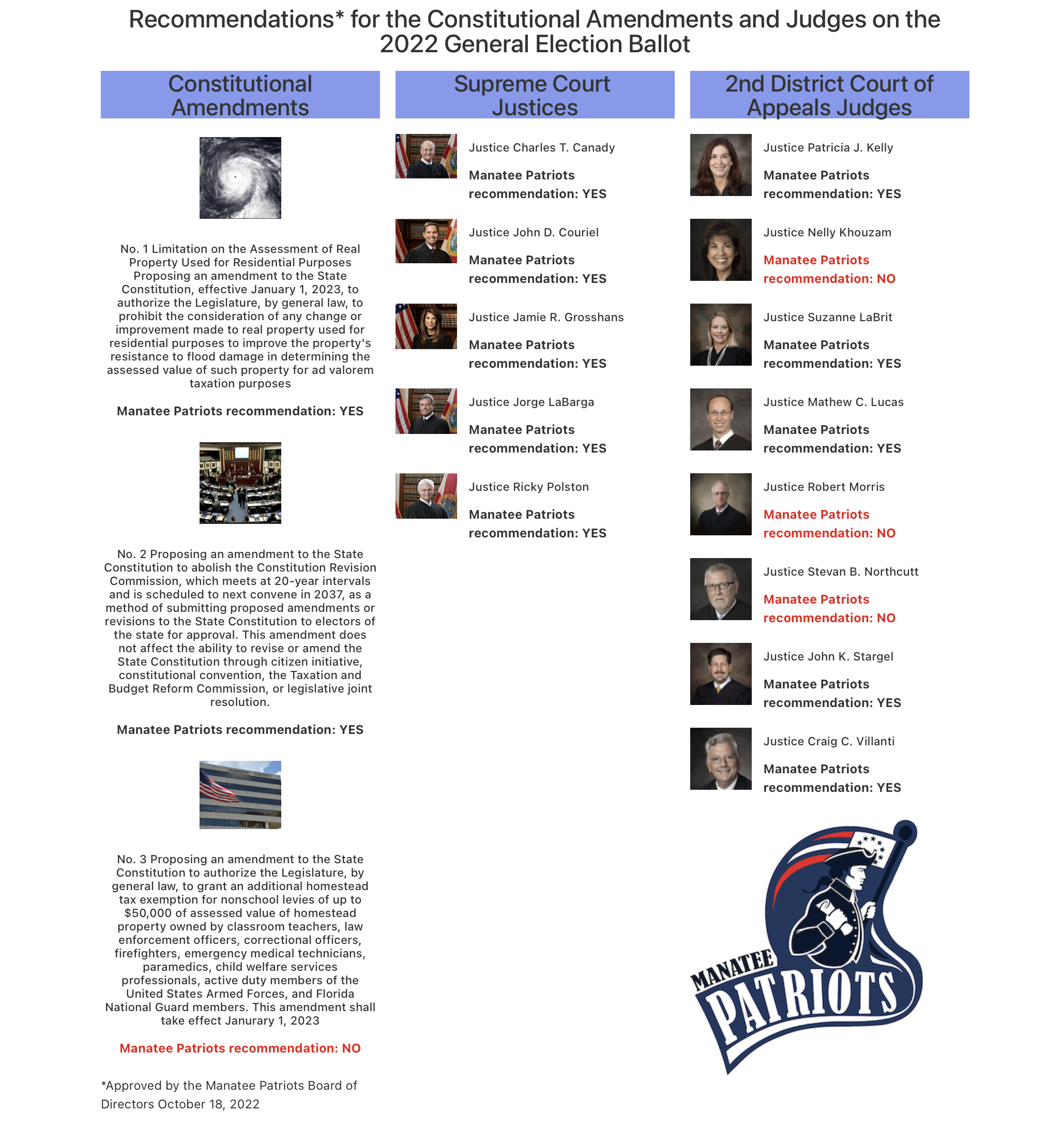 This valuable document joins the growing library of resources being made available to you to assist you in making the best decisions for the 2022 General Election. To access these resources, simply click on the button below.
An Alternate View on Judicial Retention - Just Vote No!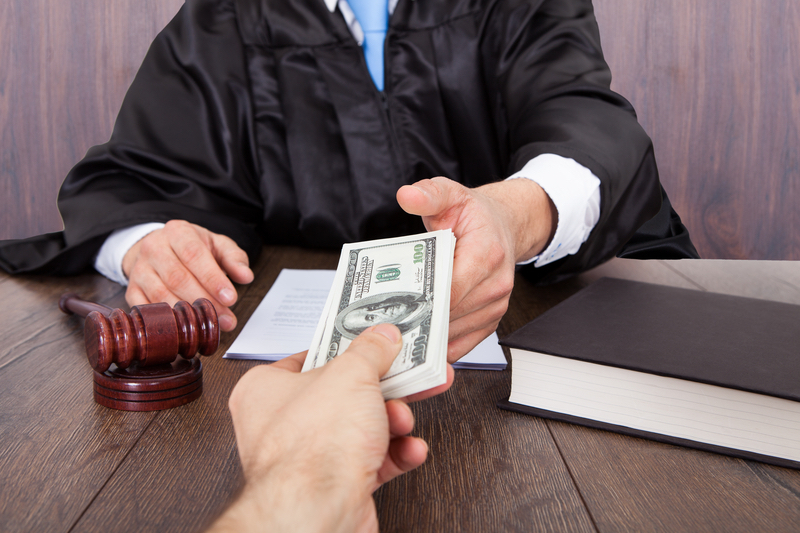 An avid reader has suggested that when it comes to Judicial Retention the best course of action is to vote them all out! The argument proffered is that judges are never voted out so that they become more susceptible to corruption over time. We have posted this intriguing piece entitled "Corrupt Judges and the Protest Vote" on our Trending page of the Manatee Patriots website, which may be accessed by clicking this link.
from Jeffrey Carman
And Yet Another View on Judicial Retention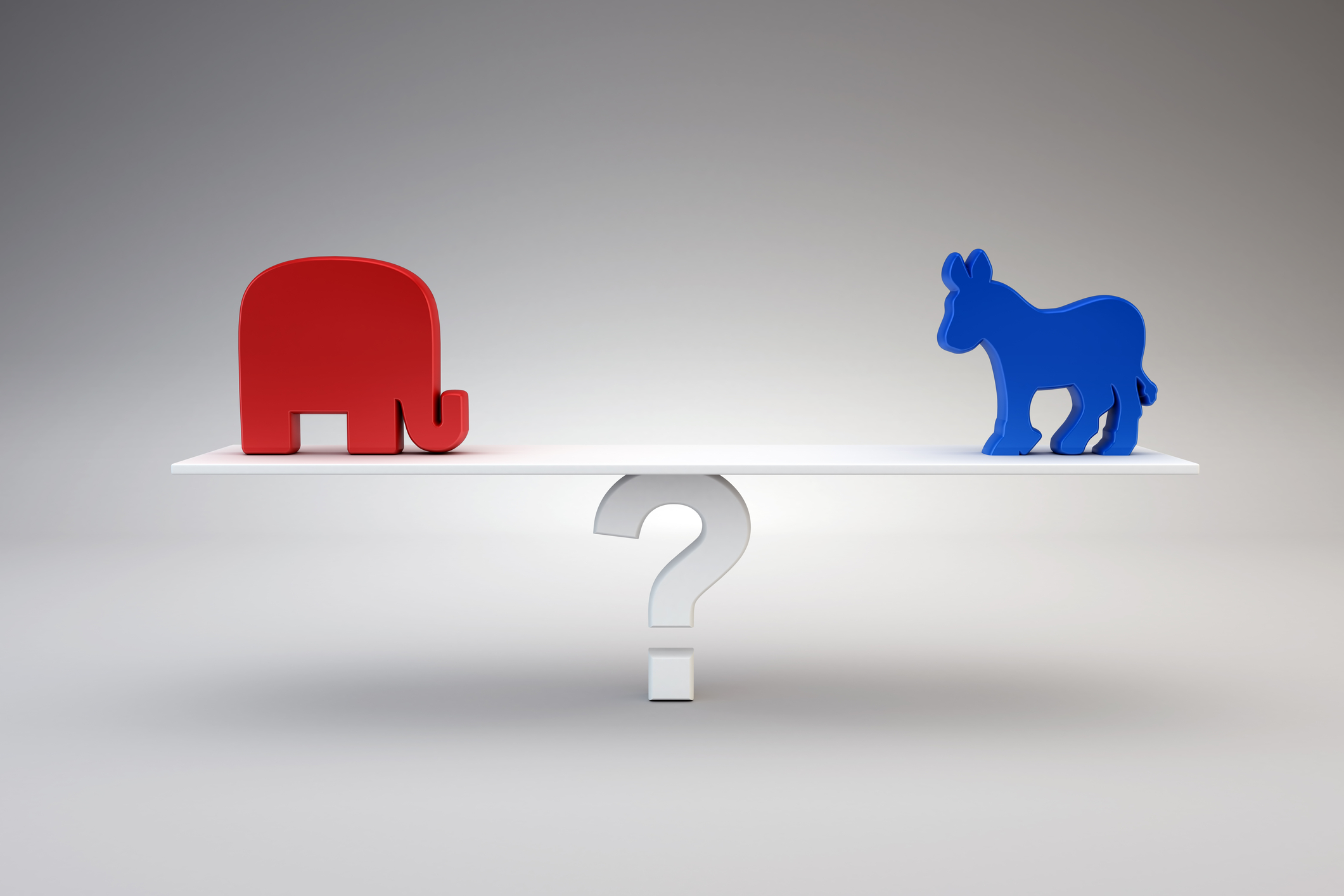 I have been asked many times since the last Manatee Patriots meeting by various voters how they should vote on the Retention of Supreme Court Justices and Judges of the 2nd District Court of Appeals(DCA). I personally received 7 Guides, some of which were more useful than others.
These groups were The Manatee County Republican Liberty Caucus, Sarasota County REC, Manatee County REC, Community Patriots Manatee, Joe Gruters Picks, Florida Family Association, a Conservative Voters Guide from the Republican Club of South Sarasota County, as well as two articles which appeared in the Orlando Sentinel, and the Sun Sentinel (Ft Lauderdale/Broward County).
The Republican Political Parties gave no endorsement because the State Party has not endorsed, but the Manatee REC did give a list of which Governor appointed the Judge to their most recent position. With Supreme Court Justices, it must be taken a bit further because many were appointed to a Court of Appeals by a different Governor in a different time frame. In fact, of the 5 Supreme Court Justices up for retention, only one never served at the DCA level and came straight from Private Practice after working for the US District Court in New York. (John Couriel).
In general, I have found a concensus among these groups. All groups taken as a whole except for the 2 newspapers, want NO VOTES on Justice Jorge Labarga and Judge Stevan Northcutt, both of whom were originally appointed to current or previous positions by Democrat Governor Lawton Chiles. Several Groups have called for Charles Canady, and Ricky Polston to receive NO votes even though both were appointed by Charlie Crist to their current positions and Jeb Bush to previous positions (perhaps Bush is a factor as well as Christ). More Interesting though is that it was noted that Justice Canady was a Democrat turned Republican (he was the LAST Conservative Democrat Elected to Congress from Polk County) and Polston was considered a "Mild Republican".
At the 2nd District Court of Appeals - NO vote recommendations were selected for : Patricia Kelly, Robert Morris Jr., Stevan Northcutt, and Craig Villanti. These were the recommended NO votes by the FL FFA and Conservative Voters. No reason was given but again, the reason seems to be those appointed by Lawton Chiles (Northcutt), Jeb Bush (Kelly, Villanti) and Crist (Morris) Nelly Khouzam was recommended YES by the FFA but NO by Conservative Voters.
So, if you would like to vote for those given a YES by all groups, you would support the following justices: John Couriel and Jamie Grosshans for the Supreme Court and for Mathew Lucas, Suzanne Labrit, and John Stargel for the 2nd District Court of Appeals.
Here is one way to consider how to vote: if the Governor position changed and a Democrat was elected, would you like to see them make an appointment or keep the current office holder who at least once was appointed by a Republican Governor? Or you could take a more drastic approach - throw them all out and if enough voters say NO they will not be retained (though its likely most will be retained by 70+% -30% votes). Or you can do what the SUN Sentinel and Orlando Times recommended: get rid of all the Desantis, Scott, Bush Conservative Appointees and retain the Lawton Chiles, Crist moderates on the bench. Either way, do your home work, take a methodical approach once you decide how to decide, then VOTE. And if you need assistance, I'm available for help.
from Republican State Committeeman Dave Matthews
Calling All Patriots! Become a Poll Watcher on Election Day!
Election Integrity! Fair Elections!
These words should stir the heart of every Patriot!
The Republican Party of Manatee County is recruiting Poll Watchers. Florida Statute 101.131 allows us to have one Poll Watcher at each precinct. We currently have about 170 available time slots for poll watching but we only have about 100 available Poll Watchers. In order to provide 100% coverage of polling locations on Election Day we need approximately 80 more poll watchers. Please consider signing up!
What are the duties of a poll watcher and what support is available?
Training provided by the Republican Party will fully prepare you for working as a Poll Watcher. After training support is provided at the local and state level.
According to the Florida Statute a poll watcher may be present at any polling location anytime during the election. The poll watcher is trained by the Republican Party to observe for issues that may violate the election statute processes, resolve any issues identified with the Poll Clerk and report issues to our state election monitoring location. It's vitally important that the Republican Party know what issues are occurring so that challenges can be made during and after the election prior to certification of the election results.
Poll Watchers are restricted by election statute from engaging the voters or talking to others besides the Poll Clerk. Poll Watcher must not interfere with the election in any way.
What do I need to do to sign up?
Be a Register Republican in Manatee County
Sign a loyalty oath available at this website: click here.
Complete online Zoom training: click here.
What happens next?
Your name and information will be submitted to the Supervisor of Elections for Credentialing. This is due October 25 at the latest so we need you to sign up and complete the training before October 24 so we have time to process.
You will receive e-mails from Dave Matthews and Sign Up Genius providing information on how to self-schedule a particular slot time and location.
The SOE (Supervisor of Elections) Office will mail you a badge that you will use along with a photo ID to gain access to the polling place. This is sent US Mail typically a week before the election.
Additional emails will be sent with a poll watcher checklist and other helpful information.
For the primary we used a GroupMe texting service. We will be using a texting service (GroupMe or other) to augment our e-mail communication.
Remember Patriots, the only way to ensure Election Integrity and Fair Elections is for Patriots to get involved! We need eyes on the process so that we can verify that the election process is according to state statutes.
Can you spare a part of your day on November 8? Your family, friends and nation need you!
You can download a copy of this flyer by clicking on the above image.
from President Jack May
Manatee County Faith and Freedom Rally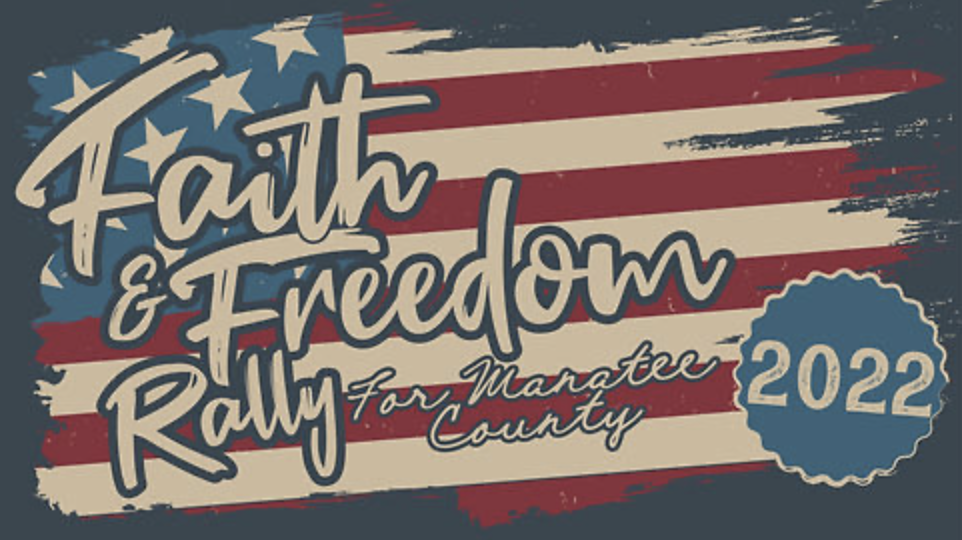 The Suncoast Baptist Church in Palmetto will be holding their Faith & Freedom Rally starting this weekend. This event is an old-fashioned tent meeting with singing, inspiring messages of hope and direction, fellowship, and a return to a simpler time and way of life. To learn more about this sensational event, simply click on the button below.
Join Us for Oktoberfest 2022!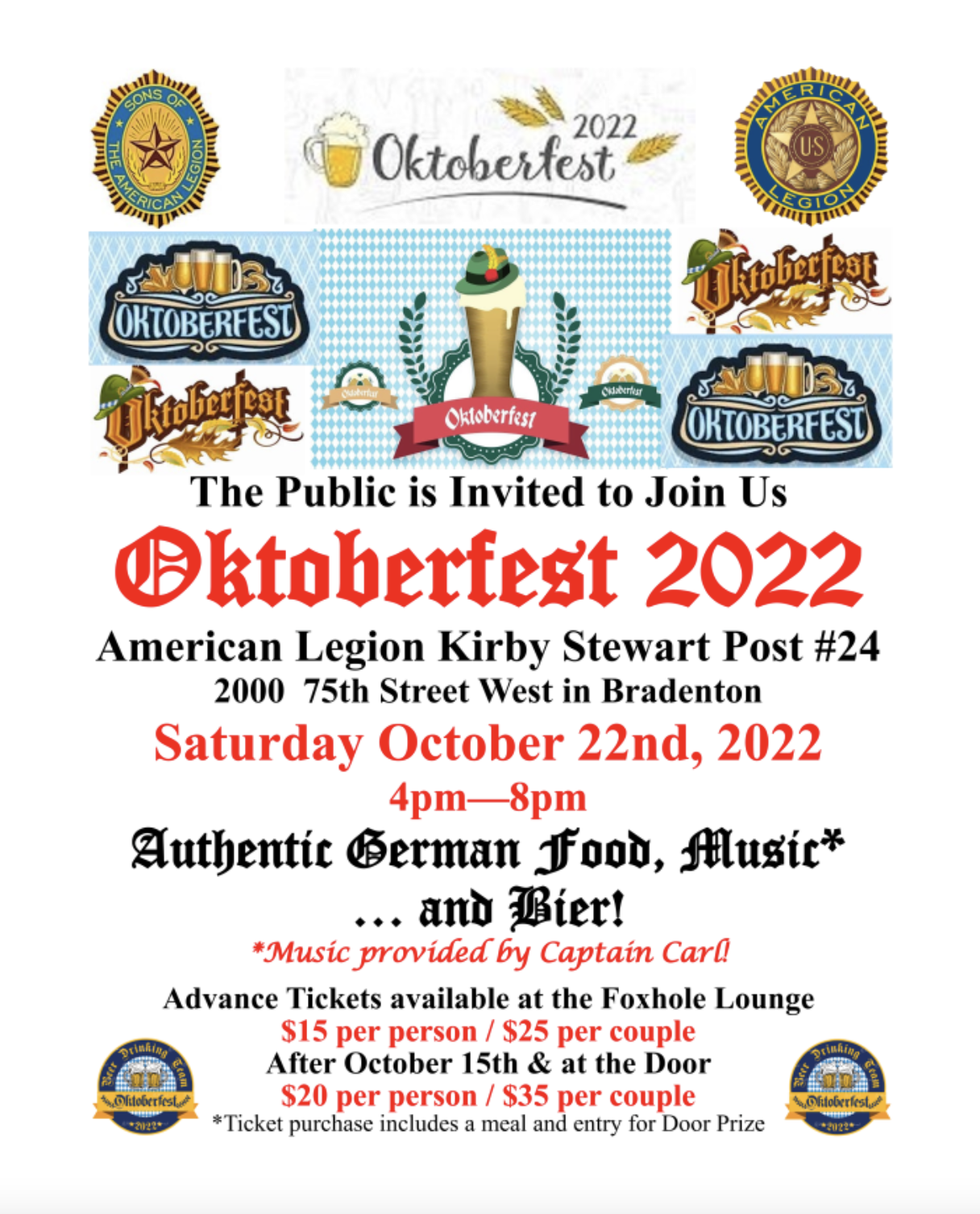 An Informed Citizenry is the best weapon against Tyranny!
Now more than ever, Conservatives need to be organized and informed. There still remains a number of Manatee Patriots subscribers missing vital information. So we are providing a link where you can update your information in order for us to keep you informed on important issues, meetings, and events. To do so, simply click this link.