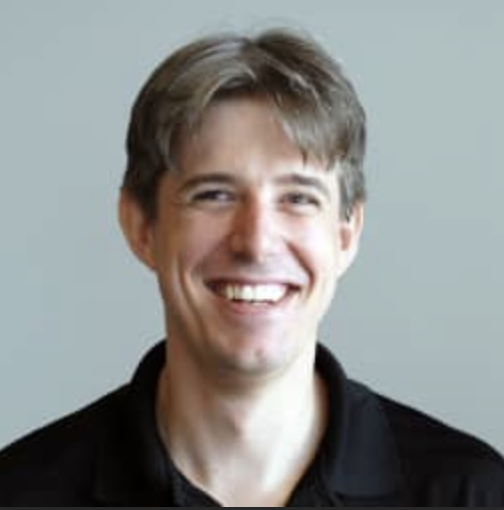 Last Minute Agenda Change
We had previously announced that Doug Logan, the former CEO of Cyber Ninjas would be the featured speaker at our next Manatee Patriots meeting. Doug as you know played a major role in the Arizona 2020 Election audit. However we were recently informed that upon advice of his counsel, Doug has had to defer making any public statements for the time being. We will announce when Doug will again be our featured speaker. In the meantime we are arranging for an alternate who will be announced in our Sunday newsletter so stay tuned! Also remember that this will be the last meeting prior to our summer break so your attendance is required to plan for additional Action Team meetings to be scheduled during the break. Besides, you really like homemade meatballs don't you?
Michael Johnson Presentation
We were pleased to have had State Candidate Michael Johnson present during Tuesday's Manaptee Patriots meeting. Michael addressed a packed house of enthusiastic listeners who thoroughly enjoyed his message. We have uploaded the video of his presentation as well as his files and may be accessed by clicking here and here.
You Decide
Please consider donating (at least) $5 a week at each Manatee Patriots Meeting. It is money well spent and represents one of the best deals around as illustrated below: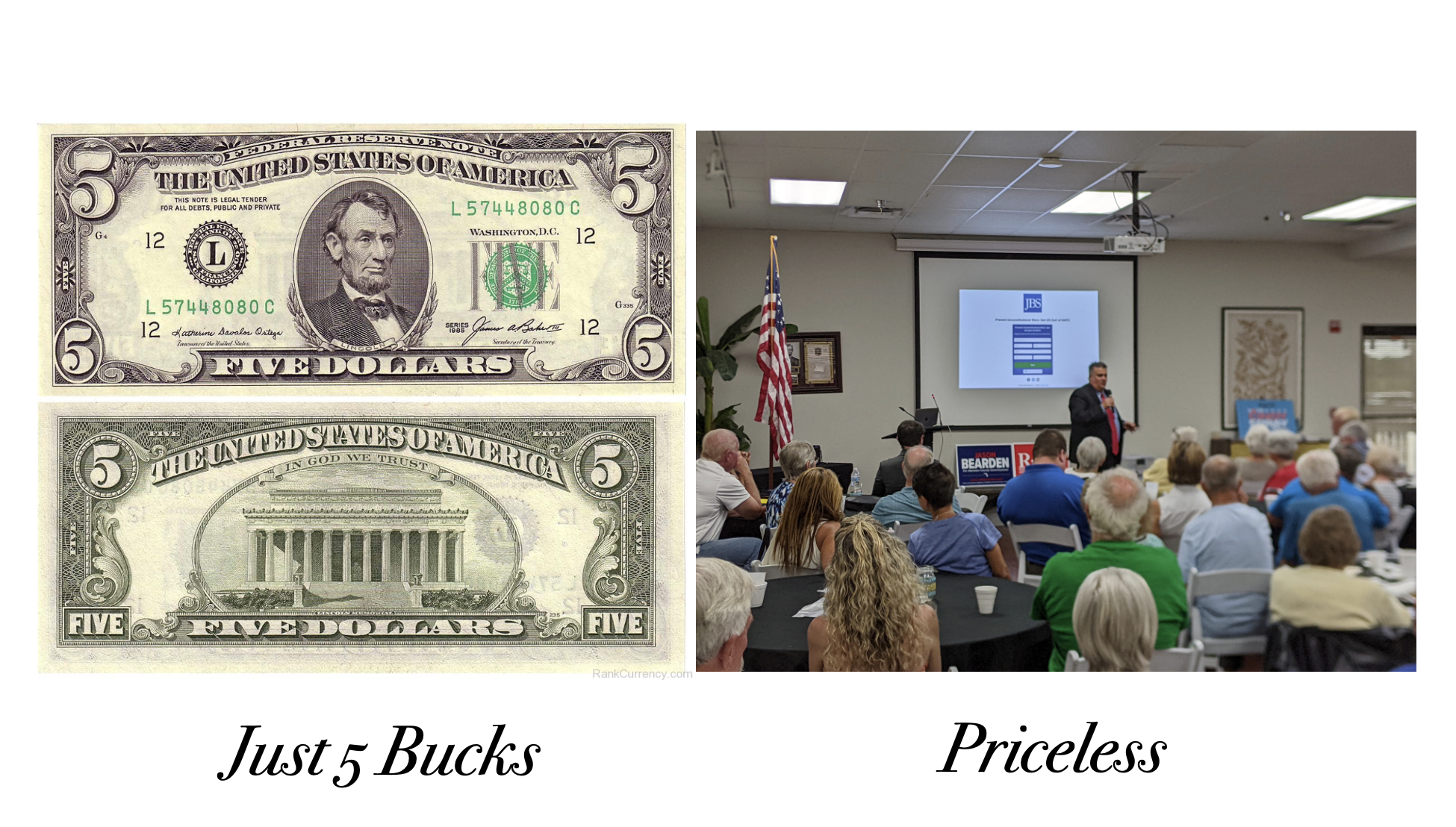 Endorsements
Our endoresements have proven to be a very popular feature of our website...in fact that page is second only to our homepage in terms of website traffic. So take a look. Simply click on the button below:
Don't Miss Our August Blog Posts on the Manatee Patriots Website.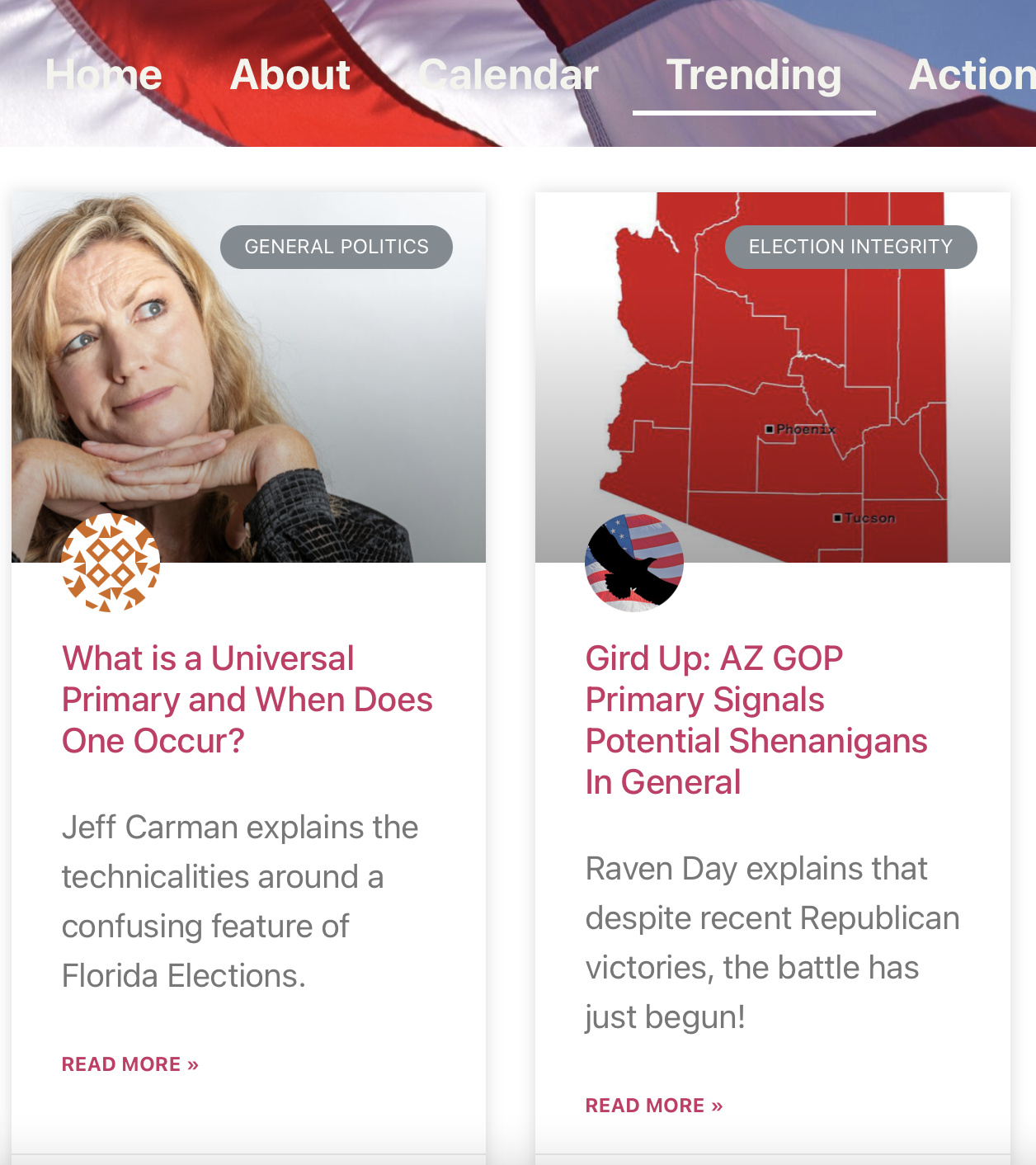 Did we mention that it's Election season? Our August blog posts zero-in on topics directly related to elections. Be sure to check them out. Simply click on the cleverly placed button below to go our our Trending page.
Help Spread the Word! Share this Newsletter with a friend.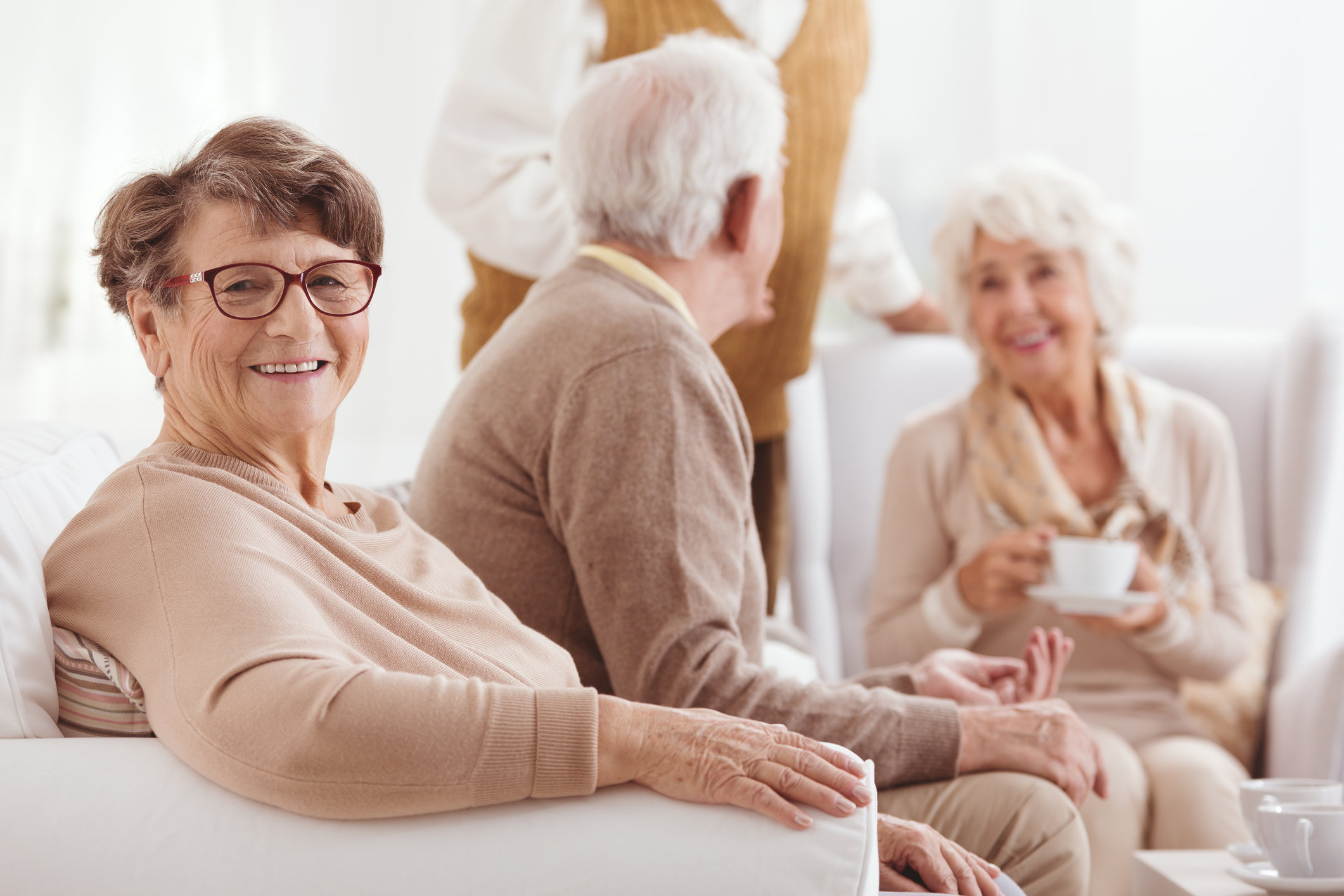 Read on to be informed about important events and simple actions you can take to make a difference.
In this Email
RSBN to Air True The Vote's "The Pit" Saturday, August 13.
Manatee County Logic and Accuracy (L&A) Test
The IRS About To Go "Beast Mode"
Demand Prosecution of SCOTUS Harrassers and Doxers
Volunteers Needed to Distribute CFC Voter Guides.
Report Election Irregularities in Real-Time.
It's Time to Get Inspired!
Help the Manatee County REC Get Out the (Early) Vote.
Candidate Meet and Greet Announced by the Manatee County Young Republicans.
Sign Up for the Florida Fair Elections Coalition Brown Bag Lunch.
Constitution Day Breakfast Hosted by the Florida Republican Liberty Caucus.
Next Meeting Details
Who: TBA
When: Tuesday, August 16 at 6pm
Where: Mixon Fruit Farms
2525 27th Street East, Bradenton, FL 34208
RSBN to Air True The Vote's "The Pit" Saturday, August 13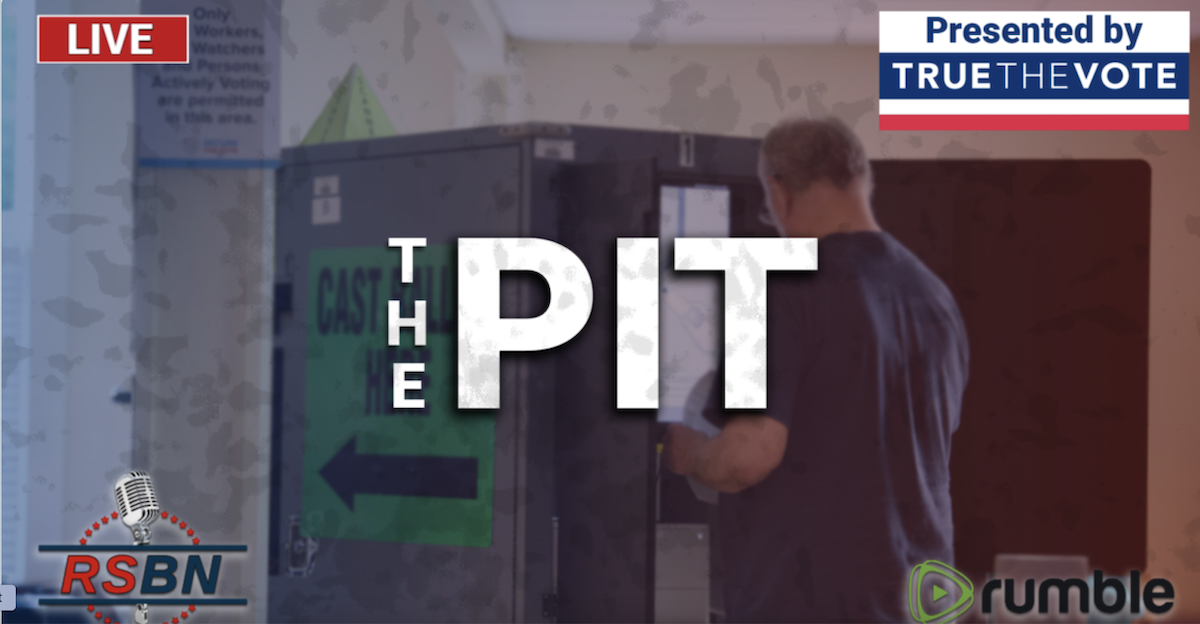 True The Vote - Katherine Engelbrecht's Election Integrity organization which featured prominently in "2000 Mules" - will be airing a special show this Saturday, August 13 at 12pm ET on RSBN. It is reported that devastating new information on the 2020 election will be revealed. So don't miss this blockbuster presentation. For more information click here.
Manatee County Logic and Accuracy Test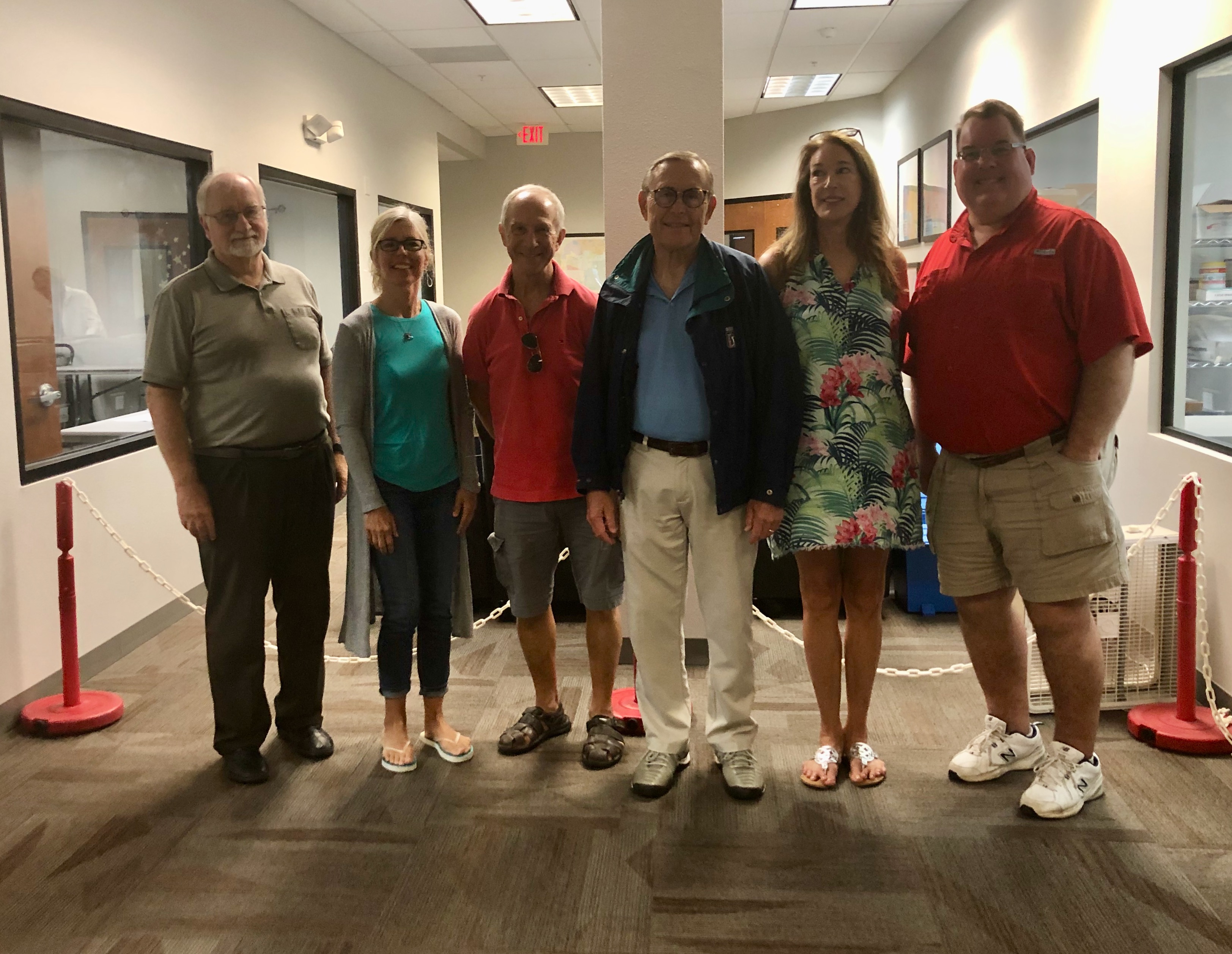 A number of members of Manatee Patriots and the Manatee County REC were on hand last Tuesday to observe the Logic and Accuracy (L&A) test performed on the ESS scanning equipment at the Supervisor of Elections Office. A sample of machines from various polling locations were moved to the SOE office and a battery of test scans were performed. Mike Bennett - our Supervisor of Elections - explained the process to us and even allowed us "behind the scenes" to view the operation of the high-speed scanning machines used in reading Vote By Mail Ballots. All attendees were reasonably impressed with the operation and all gained some valuable insights into this important aspect of our elections.

from The American Thinker
The IRS About To Go "Beast Mode"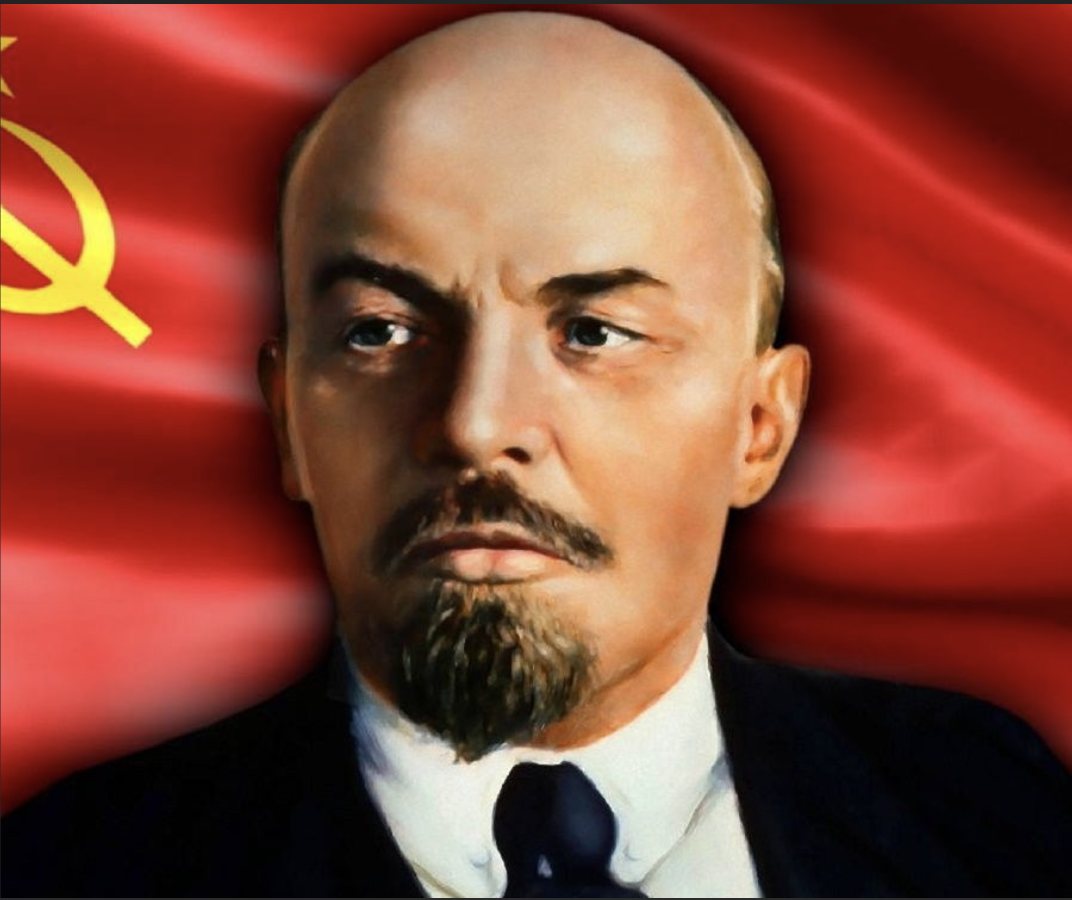 (Ed: Thanks to Marlyn Reynolds for submitting this article)
This is scary. The article referenced above from the American Thinker reports that the "Inflation Reaction Act off 2022" will result in the extraordinary expansion of the IRS (up to 6 times its current scale). The purpose is nothing less than the complete destruction of the middle class in America. Please click on the button below to read the article in its entirety
from April Allison Culbreath
Volunteers Needed to Distribute CFC Voter Guides.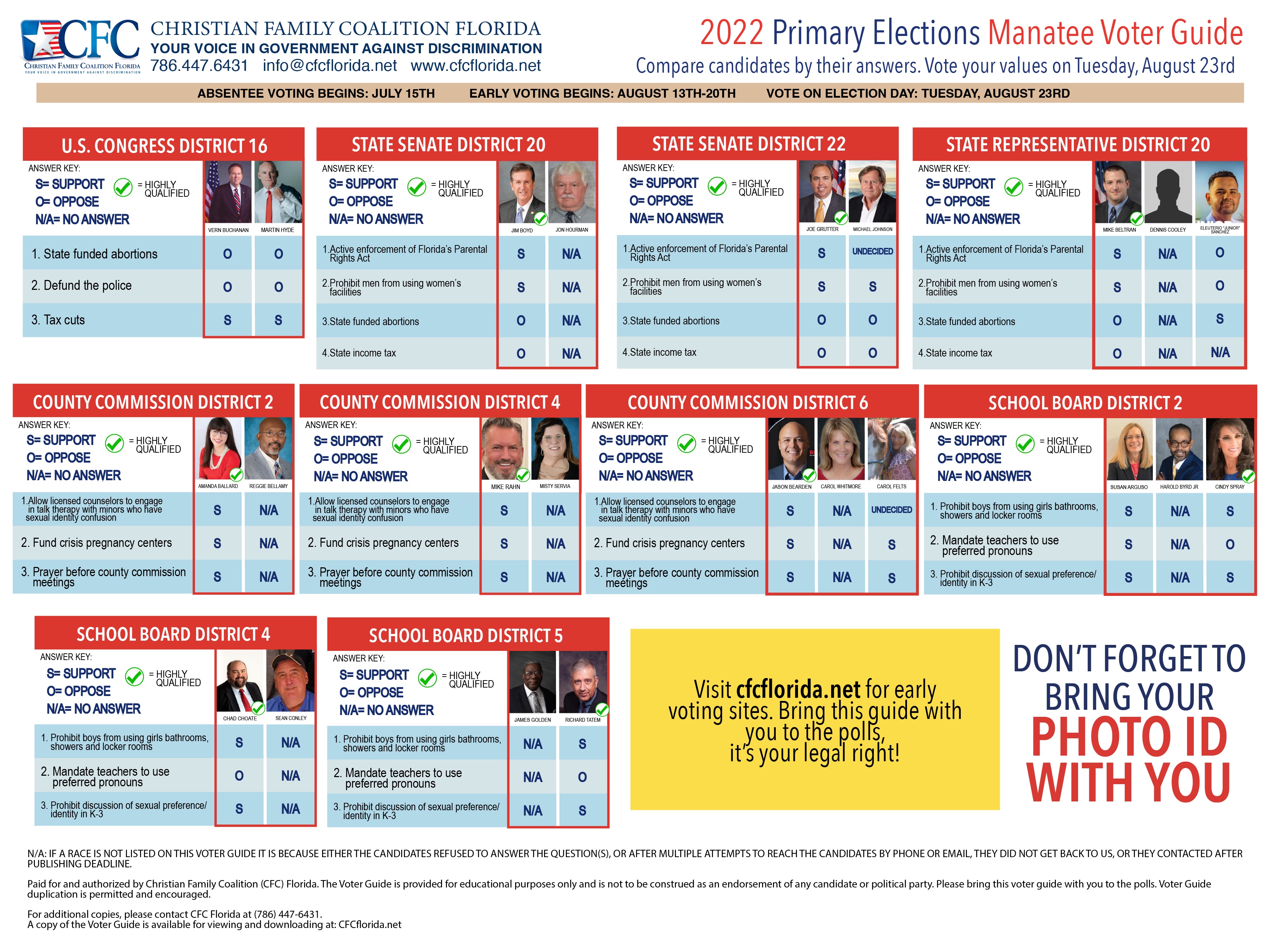 Fellow Manatee County freedom lovers,

Our Jason Bearden campaign is looking for five Team Leaders to coordinate volunteers at each of the early voting locations, to wave signs and hand out Christian Family Coalition voter guides. Mike Rahn sign wavers are welcome to join in too, to make the group bigger and support Mike as we need him to win bigly. If you want to bring a Cindy Spray or Richard Tatem sign that's more than welcome.
If you can be a Team Leader, which means all sign-waivers for your selected location will report to you for a day and time assignments. With a goal of having three or more people waving signs at all times during the seven days of early voting.
Contact Katie Bearden at (941) 320-4771 Preferably by text (she has a newborn) and let her know if you can step up to Team Leader.
If you're volunteering for Jason on the PhoneBurner system, that takes prioriy over sign waving. If you can give a few hours of your time sign-waving but do not want to be a team leader, please text your name to Katie Bearden, letting her know which location you prefer, so she can make a note to pass to the Team Leader (once assigned).
As you know we are in a full on spirtual warfare and this election is just as important as the 2020 presidential election was. PLEASE help make sure we get these fine fellas in office. This is imperative for the safty and welfare of our future generations.
In Jesus' mighty name !!!,
April Allison Culbreath
CFC Manatee Chair
941-773-5988
Report Election Irregularities in Real-Time.


Clouthub CEO Jeff Brain, in association with Patrick Byrne and The America Project has recently released a new online tool for reporting voting irregularities. The form allows anyone observing questionable behavior to document the relevant information about the incident (time, place, witnesses, etc.) and forwards the report to a group of election specialists for review. The use of the tool is free and has been incorporated into our Election Integrity Action Team page. To access the form, just click on the button below.
It's Time to Get Inspired!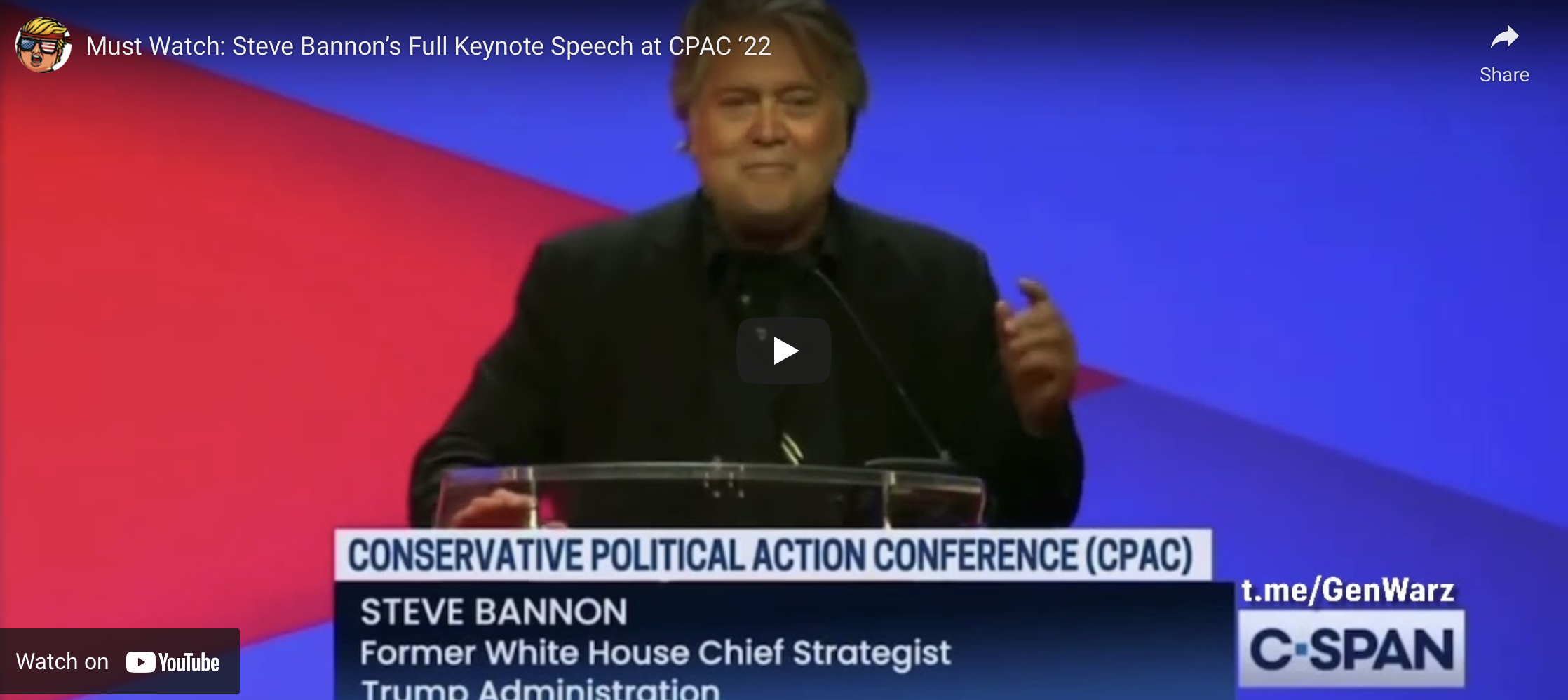 "These are the times that try men's souls. The summer soldier and the sunshine patriot will, in this crisis, shrink from service of his country; but he that stands it now deserves the love and thanks of man and woman. Tyranny, like hell, is not easily conquered; yet we have this consolation with us – that the harder the conflict, the more glorious the triumph."
Written over 200 years ago, these words from Thomas Paine's The American Crisis ring especially true today. It is in this vein that Steve Bannon's speech at last week's CPAC struck a chord. Steve admits that we are "at war" with Marxist ideology of the DNC and our goal once Congress is back in our hands is to disassemble the Administrative State brick by brick. This was truly an inspiring speech and deserving of your full attention. Sadly, the Big Tech Fascists have since removed the video from YouTube. Need we say more?
Help the Manatee County REC Get Out the (Early) Vote.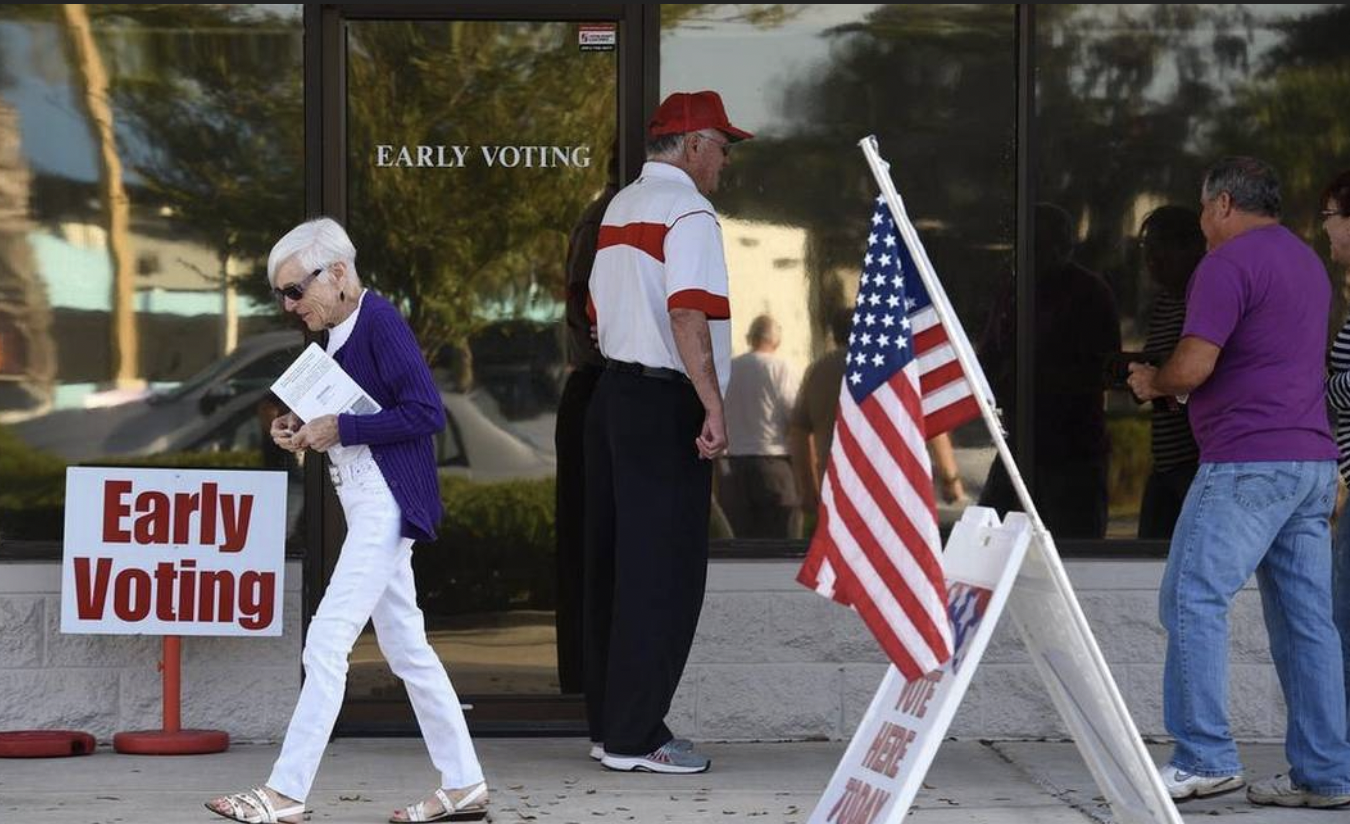 The Manatee County REC will be managing a tent at each of the 5 Early Voting Centers during the Early Voting cycle to provide information to voters, candidates palm cards and encouraging voters. All Manatee County registered Republicans are invited to lend assistance in this effort.
Early voting starts on August 13 and concludes on August 20. If you are interested in helping out at any of the 5 early voting locations, you are asked to click the button below to sign up. Time slots are available in 2-hour increments.
We appreciate your support!
Candidate Meet and Greet Announced by the Manatee County Young Republicans.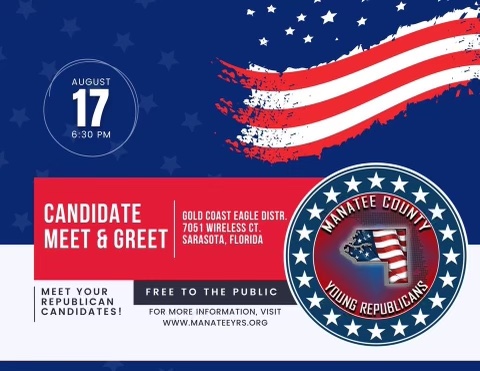 Whether you are a Young Republican or simply "young at heart", you are cordially invited to attend a Candidate Meet & Greet on Wednesday, August 17 starting at 6:30pm. The event will be held at Gold Coast Eagle Distributing and is free to the general public. This is a great opportunity to meet your Republican candidates right before the important August 23 Primary Election. To RSVP go to https://www.manateeyrs.org. We hope to see you there!
Sign Up for Florida Fair Elections Brown Bag Lunch

Florida Fair Elections Coalition (FFEC) is a group dedicated to improving the election system in the state of Florida. This active group hosts a weekly Zoom meeting to discuss important topics related to Election Integrity. The list of speakers include subject matter experts from across the country and their discussions provide deep insights into our elections system. The meetings are held Thursday at noon. In order to participate you are asked to complete a short form, the link for which is provided below. Once complete, you will receive a Zoom meeting link directly from the organizers. So sign up today and learn how you can help improve our election systems! Click the button below to go to the form.
Constitution Day Breakfast Hosted by the Florida Republican Liberty Caucus
Our friend Kevin Wright reminds us that the Manatee County Republican Liberty Caucus will host a breakfast celebrating Constitution Day on Saturday, September 24th. To purchase tickets, click on the image below or click the convenient button. 10% of revenue will be donated to support the Florida Republican Liberty Caucus.
And remember, the August 18 meeting is free to the public. See details below.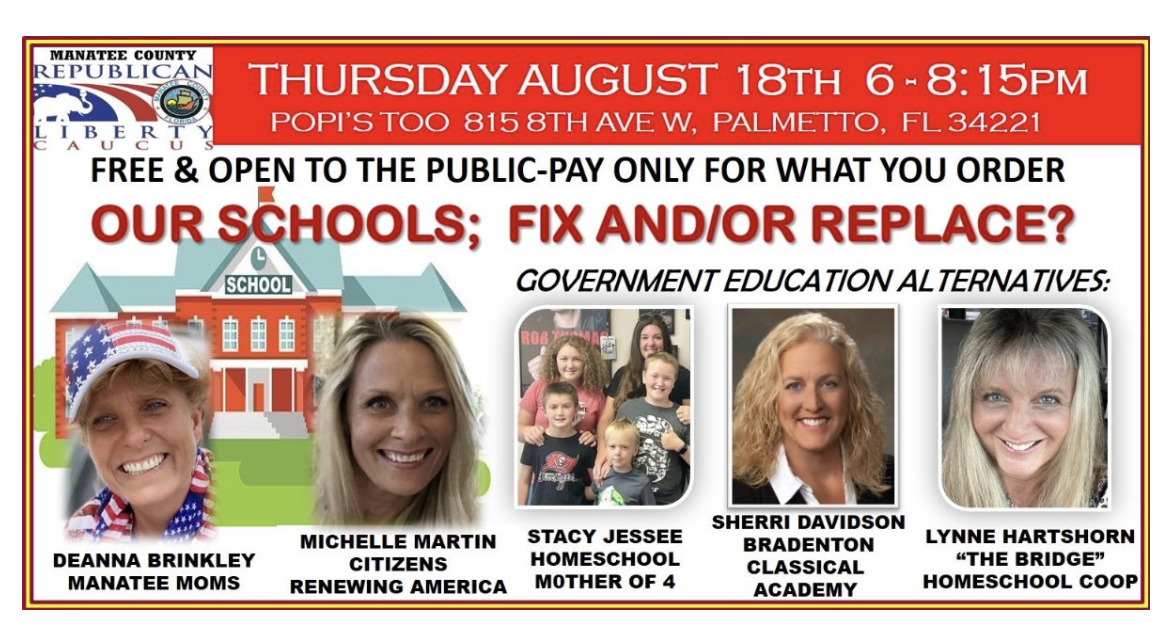 An Informed Citizenry is the best weapon against Tyranny!
Now more than ever, Conservatives need to be organized and informed. There still remains a number of Manatee Patriots subscribers missing vital information. So we are providing a link so that you can update your information in order for us to keep you informed on important issues, meetings, and events. To do so, simply click this link.