Special Summer Break Edition Issue #5
Our Summer Break extends through September 13. Meetings will resume on September 20 with a special Poll Watcher Training Session presented by the Republican Party Of Florida (RPOF).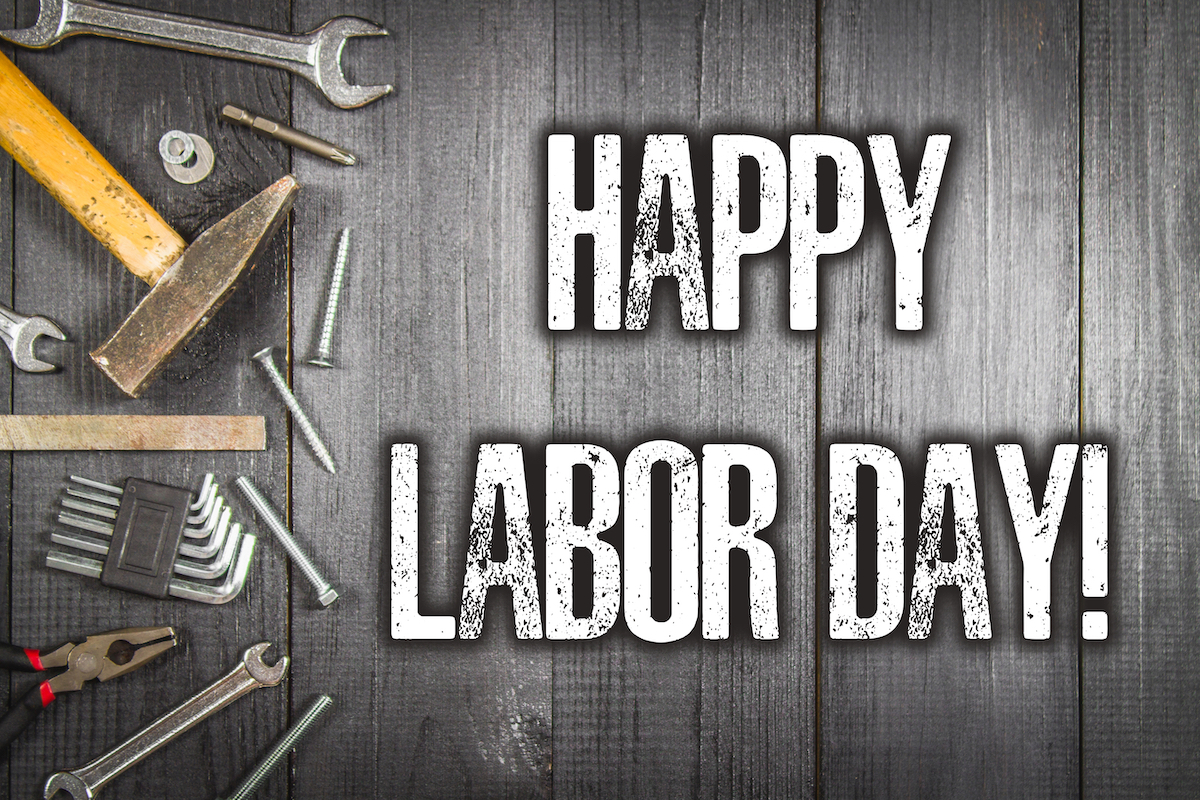 While there will be no General Meetings, Action Teams may conduct separate meetings during the break. Be sure to check with your Action Team leader for details!
And mark you calendars! Our first meeting after the Summer Break will have Tim Abakhin, Regional Election Integrity Director for the Republican Party of Florida (RPOF), conducting a special Poll Watcher training session exclusively for Manatee Patriots. This training is a requirement to become a credentialed Poll Watcher for the Republican Party during the General Election. You won't want to miss Tim's essential training on Tuesday, September 20.

Let's Win District 2!
The Primaries are over and the battlelines are drawn. We have two exceptional candidates running for positions in District 2: Cindy Spray in a runoff election with Harold Byrd Jr for School Board, and Amanda Ballard facing incumbent Reggie Bellamy for the County Commissioner seat.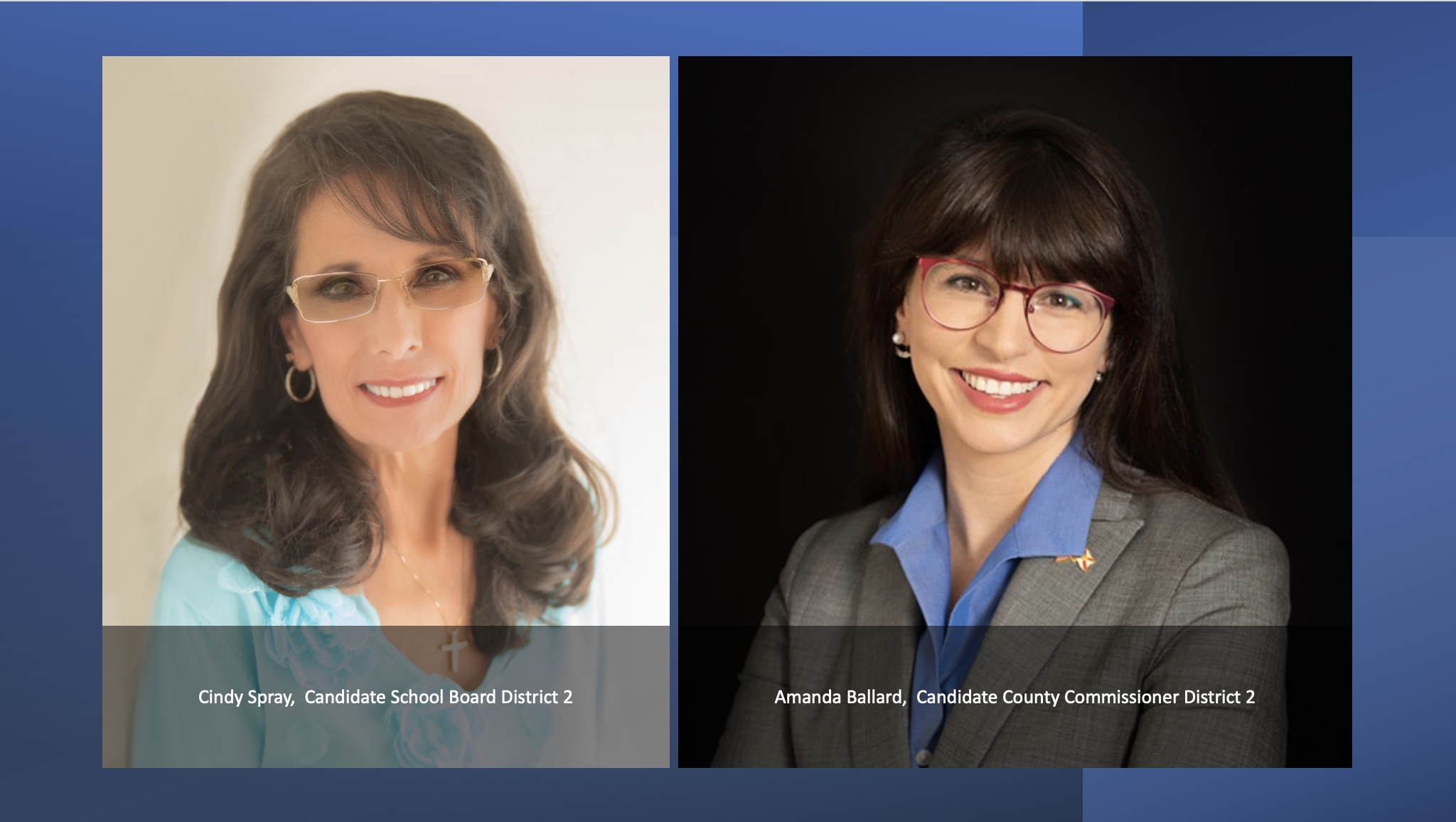 You know both to be conservative, faithful and true Patriots. Both are certainly deserving of your vote. Both races are essential if we have any hope of improving the lives of our neighbors and their children in District 2.

But they can't do it alone! District 2 has more Democrat than Republican voters with a large base of voters with No Party Affiliation. So we need to help Cindy and Amanda spread the message that conservative values help ALL Floridians.
To that end, we have created a short form to allow you to sign up to help our great candidates. We need all talents: from canvassing, to sign waving, graphics design, whatever your passion and skills we have a place for you! So please click on the button below and let's win District 2!
School Board Meeting Tuesday, September 13 at 10am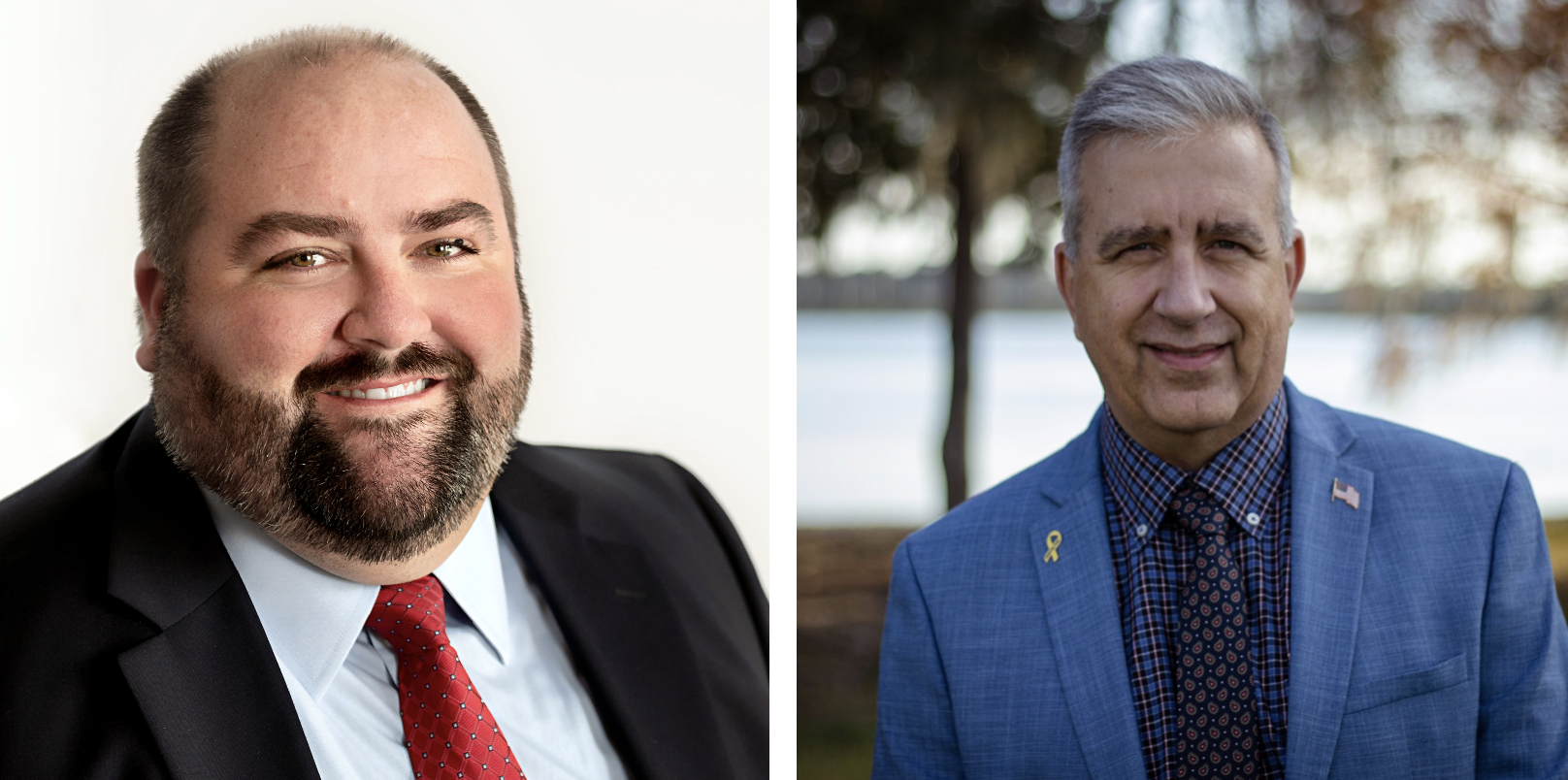 The first School Board meeting with the winners of the recent Manatee County School Board elections will be on Tuesday, September 13 at 10am. The meeting will convene in the Board Room at the School Boards Administration Building located at:

215 Manatee Avenue West
Bradenton, Florida 34205
It will be quite interesting to note any change in demeanor in the board with Chad and Richard in attendance after their victories. We urge all Manatee Patriots subscribers to attend to voice our support.
In this Email
Chris Carman Asks: "

We have new County Commissioners for Districts 4 and 6 right? Not so fast!

"

Sarasota 40 Days for Life Fall Campaign Kickoff
Learn More About the ERIC system from Virginia Fair Elections
Sign Up for the Florida Fair Elections Coalition Brown Bag Lunch.
Constitution Day Breakfast Hosted by the Manatee County Republican Liberty Caucus.
Amanda Ballard Meet and Greet September 21
Next Meeting Details
Who: Tim Abakhin
When: Tuesday, September 20 at 6pm
Where: Mixon Fruit Farms
2525 27th Street East, Bradenton, FL 34208
Chris Carman Asks: "We have new County Commissioners for Districts 4 and 6 right? Not so fast!"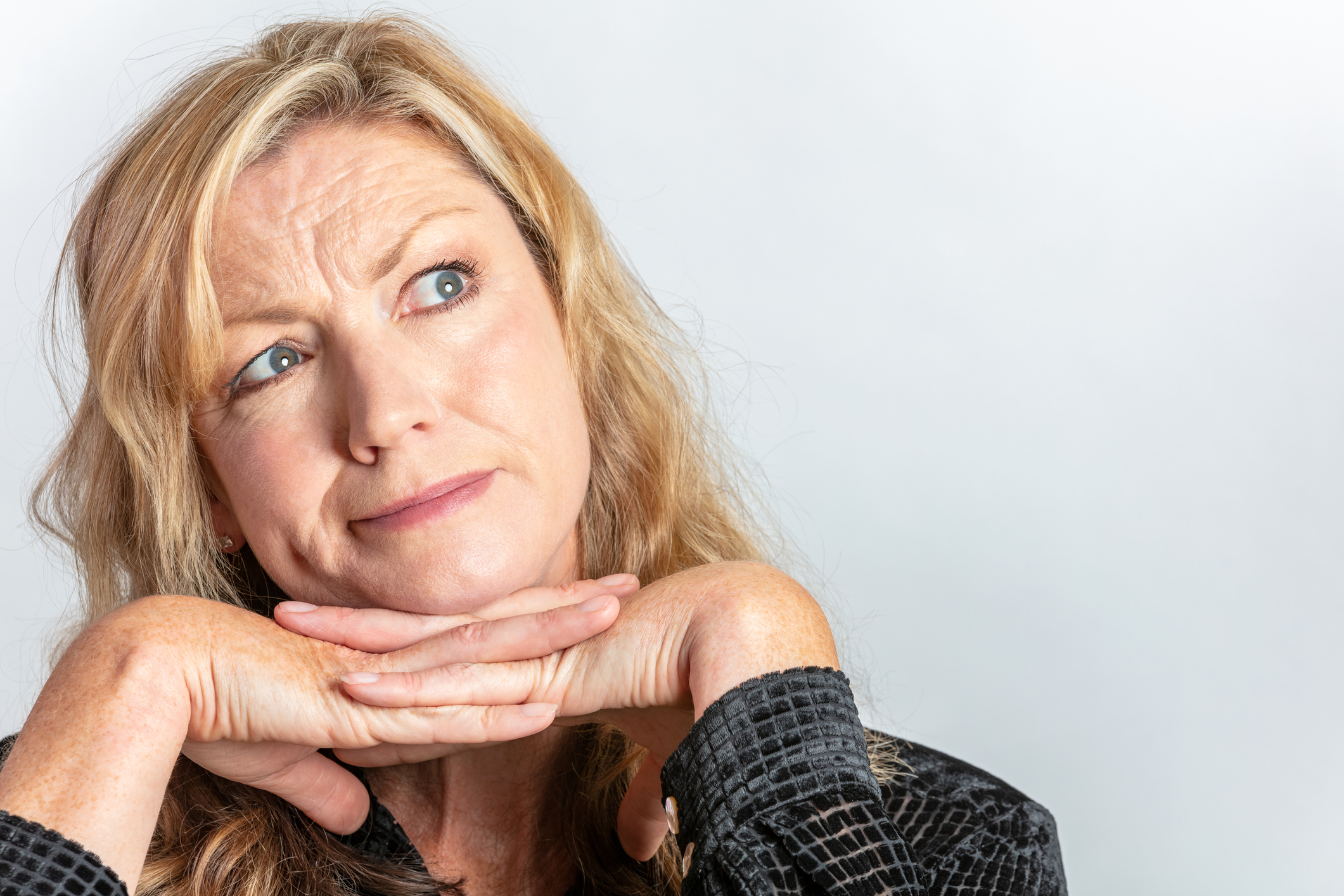 After all the excitement and merriment of the election results for Candidates for County Commission Jason Bearden and Michael Rahn most people think, Aha, the sitting commissioners were defeated now they become County Commissioners correct? Well....Yes and No.
Both Jason Bearden and Michael Rahn will once again face the voters on November 8th with their names on the ballot and a blank space for the "Write In" Candidates they face. Yes you heard that right...they alone will have their names on the ballot but there is a line as well for voters should they actually take the time to find the opposing candidates, spell their names correctly, AND cast their vote for them on Election Day November 8th. Though their names will not be on the ballot each of these Commissioners (elect) has Write-in opposition. Jason Bearden faces Robert Lesher and Manuel Antonio Llamas. Michael Rahn faces Daniel Hensen and Timothy Norwood.
from Rich Owens
Sarasota 40 Days for Life Fall Campaign Kickoff
Defenders of Life,
Our Sarasota Kickoff will be held on Wednesday September 28th, at 10:30am in the CPCI parking lot at 1419 7th Street Sarasota, around the corner from Planned Parenthood.
We rejoice with the overturning of Roe v Wade. The national battle has been won! Now Americans have 51 (including DC) battles at the state level to protect the dignity of the unborn. Given the national attention that the overturning of Roe has brought to our country it is critical that we remember the women and men who have been hurt by abortion and need healing, whether they are three months post-abortion or 40 years post-abortion.
We have a great guest speaker who can help us learn how to help/where to direct people who are hurting. Lisa Rowe, CEO of Support after Abortion will be our guest speaker. Her bio is below. https://supportafterabortion.com/
Please invite everybody for this first Post-Roe Kickoff event! Hope to see you there!!
For Life and in Holy Love
Rich
Lisa Rowe has spent the last 2 decades equipping and empowering thousands of at-risk children, hurting adults and broken families find hope, healing, and restoration. Lisa's clinical experience, coupled with her organizational leadership has assisted government, nonprofit and private organizations to grow their impact, increase their sustainability, and leave a national imprint. Lisa has invested a great deal of time and leadership into helping men, women and families heal from the following adverse experiences: foster care, teen parenting, sex trafficking, an unexpected pregnancy, divorce, abortion, codependency, and addiction. Her passion for revealing the root of dysfunctional behavior and helping people find freedom from early childhood trauma is evident in her own life, the lives she helps lead, public speaking engagements, and the program model she has and continues to build to serve clients.
Support After Abortion exists to see the world restored from the impact of abortion. Our mission is to influence the way the world provides restoration to men and women impacted by abortion through innovation, education, and collaboration. Our innovative, research-centered, options-based model gives everyone, regardless of their circumstances or barriers, an opportunity to live the life they were created for by breaking free from guilt, shame, and condemnation.
from Virginia Fair Elections
Learn More About the ERIC system from Virginia Fair Elections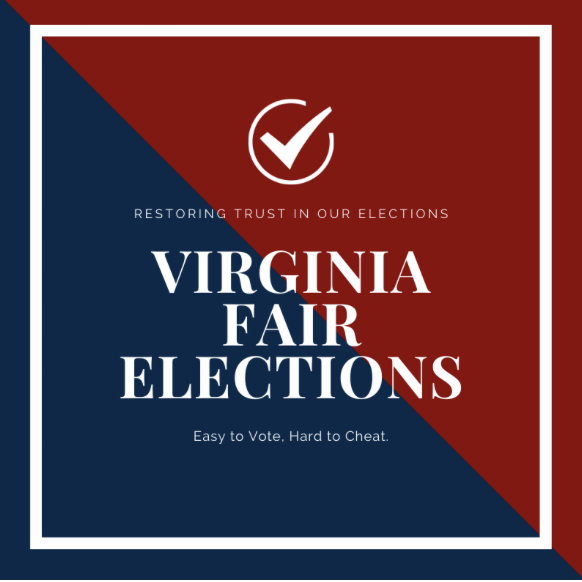 Join Us Wednesday September 7th!
The Virginia Fair Elections (VFE) Coalition is hosting a special election integrity workshop via Zoom this week, September 7th, at 7PM on The Electronic Registration Information Center (ERIC). ERIC was allegedly established to help make voter rolls more accurate. In reality, the primary effect of ERIC is to grow the voter rolls by converting potentially eligible but unregistered (EBU) persons into registered voters. States send Personal Identifiable Information (PII) to ERIC for all registered voters but also for all people who have completed a transaction at the DMV -- even if they have decline to register to vote. In some states, ERIC also collects additional information on unregistered people from other agencies like Department of Human Services, Department of Aging and Department of Family Services. FOIA records reveal that ERIC shares private data of these EBUs with an organization that was funded by Mark Zuckerberg.
Please join VFE on Wednesday to learn details from special guest Heather Honey about the Verity Vote investigation!
Advance registration is required to join the workshop.
After registering, you'll receive a confirmation email containing the necessary details to join the training workshop.
Sign Up for Florida Fair Elections Brown Bag Lunch

Florida Fair Elections Coalition (FFEC) is a group dedicated to improving the election system in the state of Florida. This active group hosts a weekly Zoom meeting to discuss important topics related to Election Integrity. The list of speakers include subject matter experts from across the country and their discussions provide deep insights into our elections system. The meetings are held Thursday at noon. In order to participate you are asked to complete a short form, the link for which is provided below. Once complete, you will receive a Zoom meeting link directly from the organizers. So sign up today and learn how you can help improve our election systems! Click the button below to go to the form.

Constitution Day Breakfast Hosted by the Manatee County Republican Liberty Caucus with 10% of revenue going to the
Florida Republican Liberty Caucus.
Our friend Kevin Wright reminds us that the Manatee County Republican Liberty Caucus will host a breakfast celebrating Constitution Day on Saturday, September 24th. To purchase tickets, click on the image below or click the convenient button. 10% of revenue will be donated to support the Florida Republican Liberty Caucus.
Amanda Ballard Meet and Greet September 21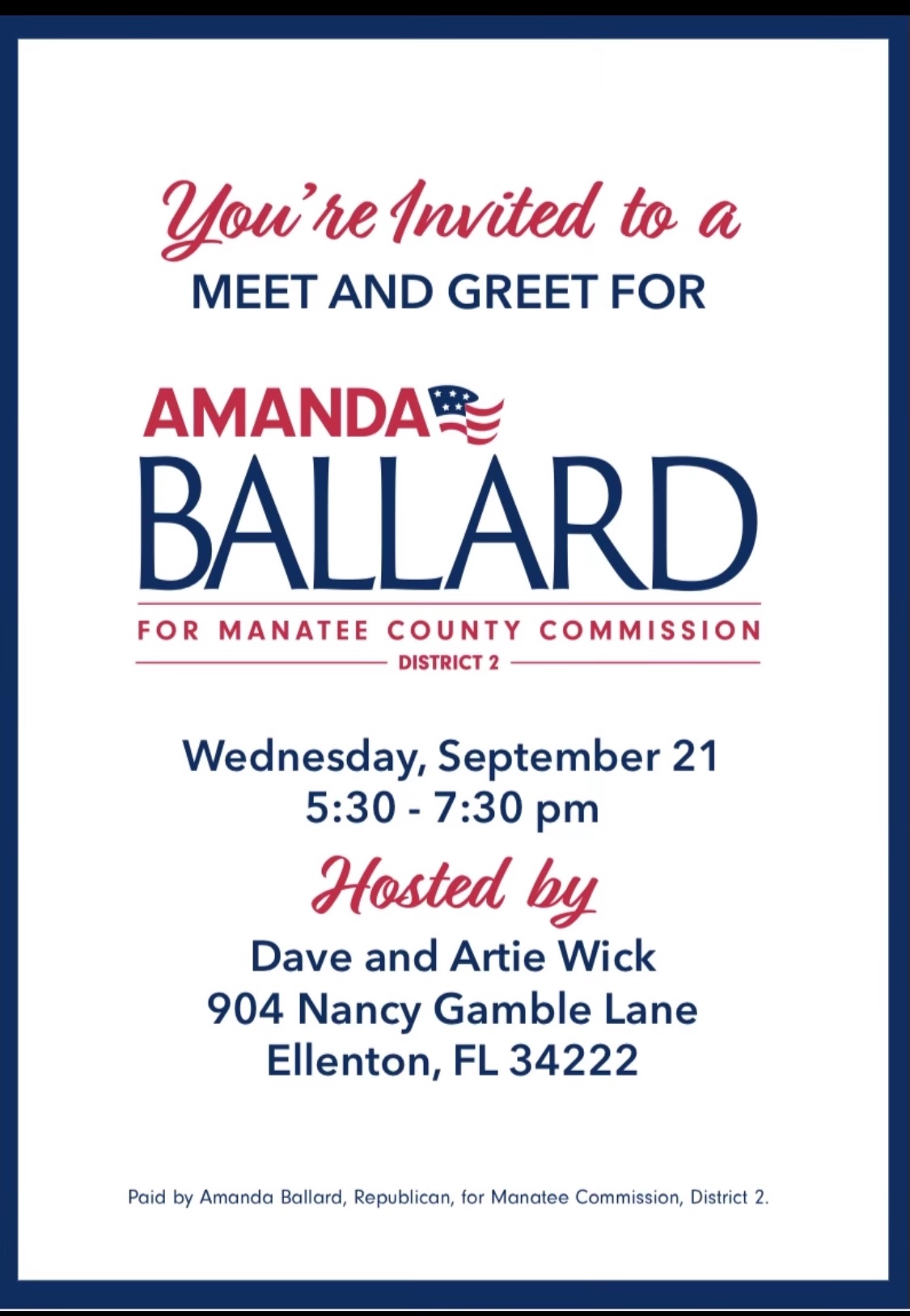 An Informed Citizenry is the best weapon against Tyranny!
Now more than ever, Conservatives need to be organized and informed. There still remains a number of Manatee Patriots subscribers missing vital information. So we are providing a link so that you can update your information in order for us to keep you informed on important issues, meetings, and events. To do so, simply click this link.