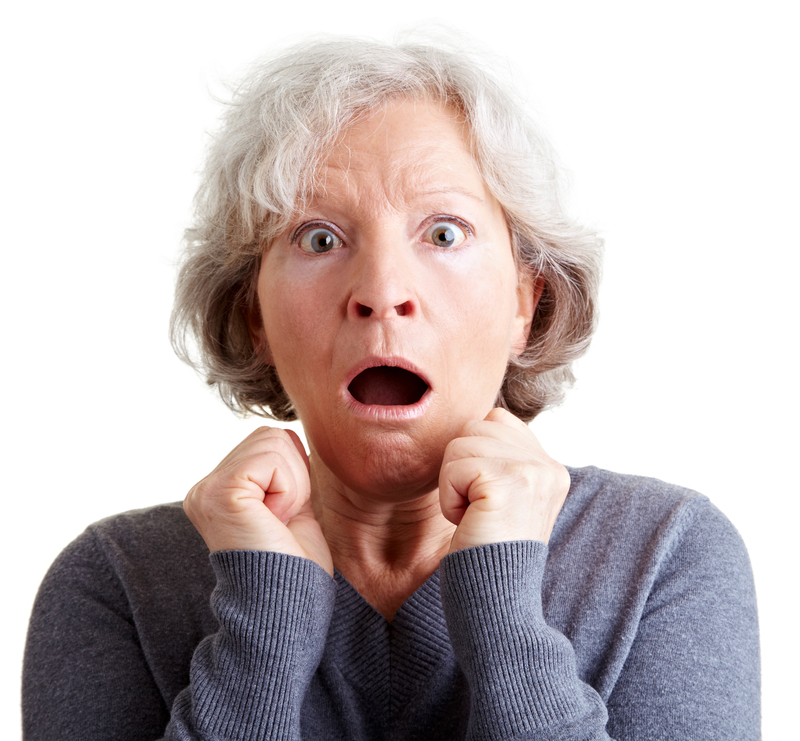 Are you ready for an "October Surprise"?
Our speaker - Radio Host and Investigative Journalist James Grundvig - promises to reveal key unknown facts that will have a significant impact on the General Election. Mr. Grundvig is a former contributor to the Epoch Times and the author of "Master Manipulator: The Explosive True Story of Fraud, Embezzlement and Government Betrayal at the CDC." He lives and works in New York City.
Curious? Then you won't want to miss this blockbuster presentation. Be sure to come to Mixon Fruit Farms next Tuesday at 6pm.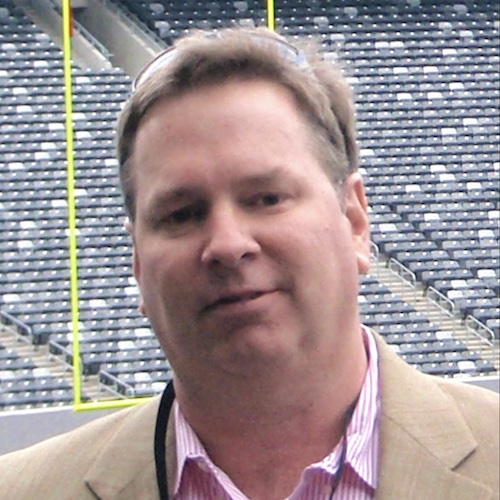 In this Email
iVote Guide 2022 Added to Our List of General Election Resources
The Manatee Republican Party 2022 Voter Guide Is Also On Our List of General Election Resources
Keeping an Eye on Vote By Mail Ballots
Calling All Patriots! Become a Poll Watcher on Election Day!
New App from Defend Florida
Florida Victory Campaign Continues
Support All Our Republican Candidates
Manatee County Faith and Freedom Rally
Fundraising Event for Gov. Ron DeSantis, October 21
Hear Cathi Chamberlain on the Justin American Radio Hour
Join Us for Oktoberfest 2022
Next Meeting Details:
Who: James Grundvig
When: Tuesday, October 18 at 6pm
Where: Mixon Fruit Farms
2525 27th Street East, Bradenton, FL 34208
iVoter Guide 2022 Added to Our List of General Election Resources.

The iVoter Guide is one of the most trusted resources for elections. They publish guides for elections all across the country and include information on contests down to the State level. So we are pleased to report that we have just added this important guide to our growing list of resources to help you make the best decision on the upcoming 2022 General Election. To view the guide online, simply click on the button below. Please note that the address we used to generate the page was Mixon Fruit Farms.
The Manatee Republican Party 2022 Voter Guide Is Also On Our List of General Election Resources
We previously announced that the official Voter Guide for the 2022 General Election released by the Republican Party of Manatee County. To make it convenient, we have included this in our list of General Election resources. So there is yet another reason to click the above button. Please share this with your friends and families as well.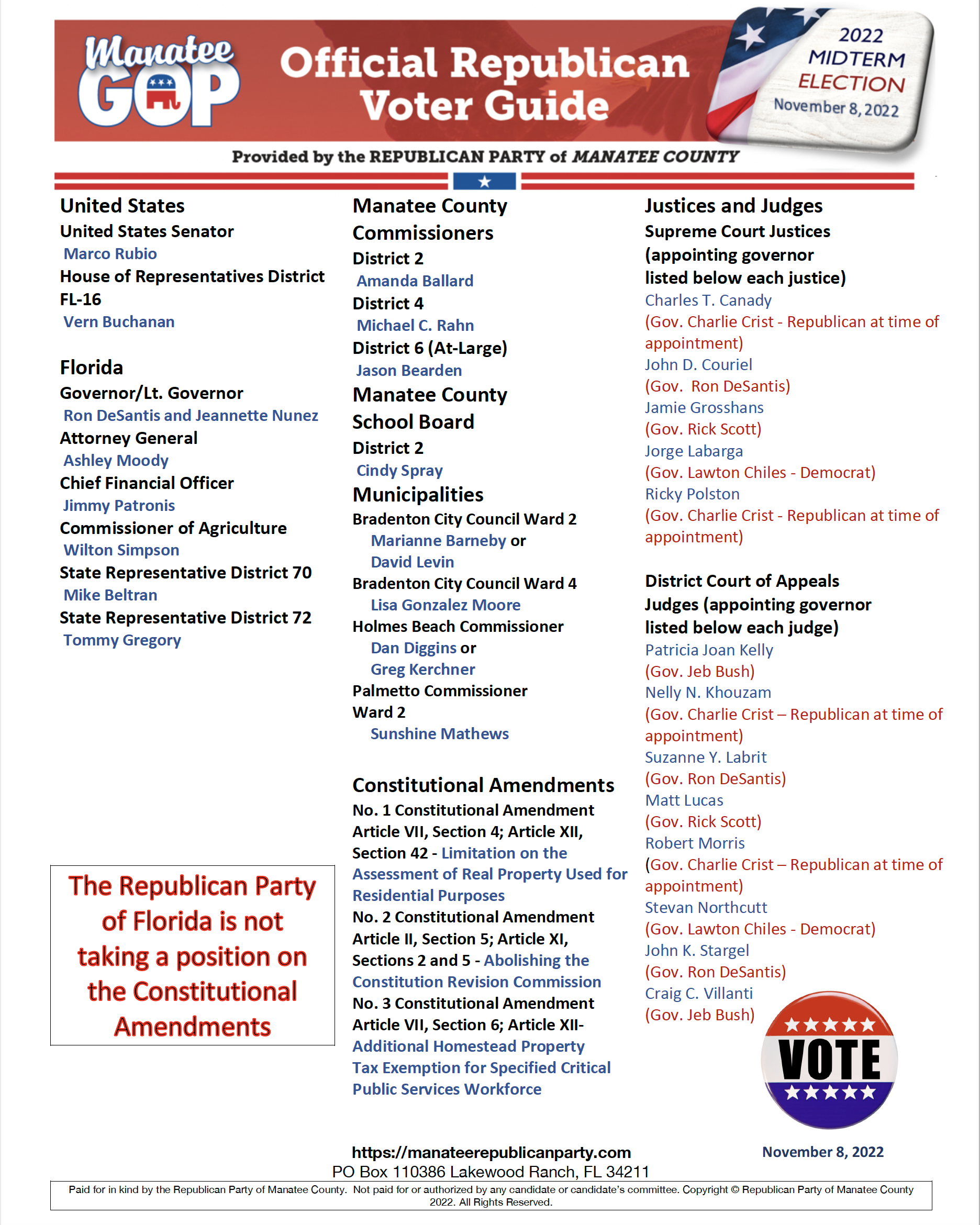 Keeping an Eye on Vote By Mail Ballots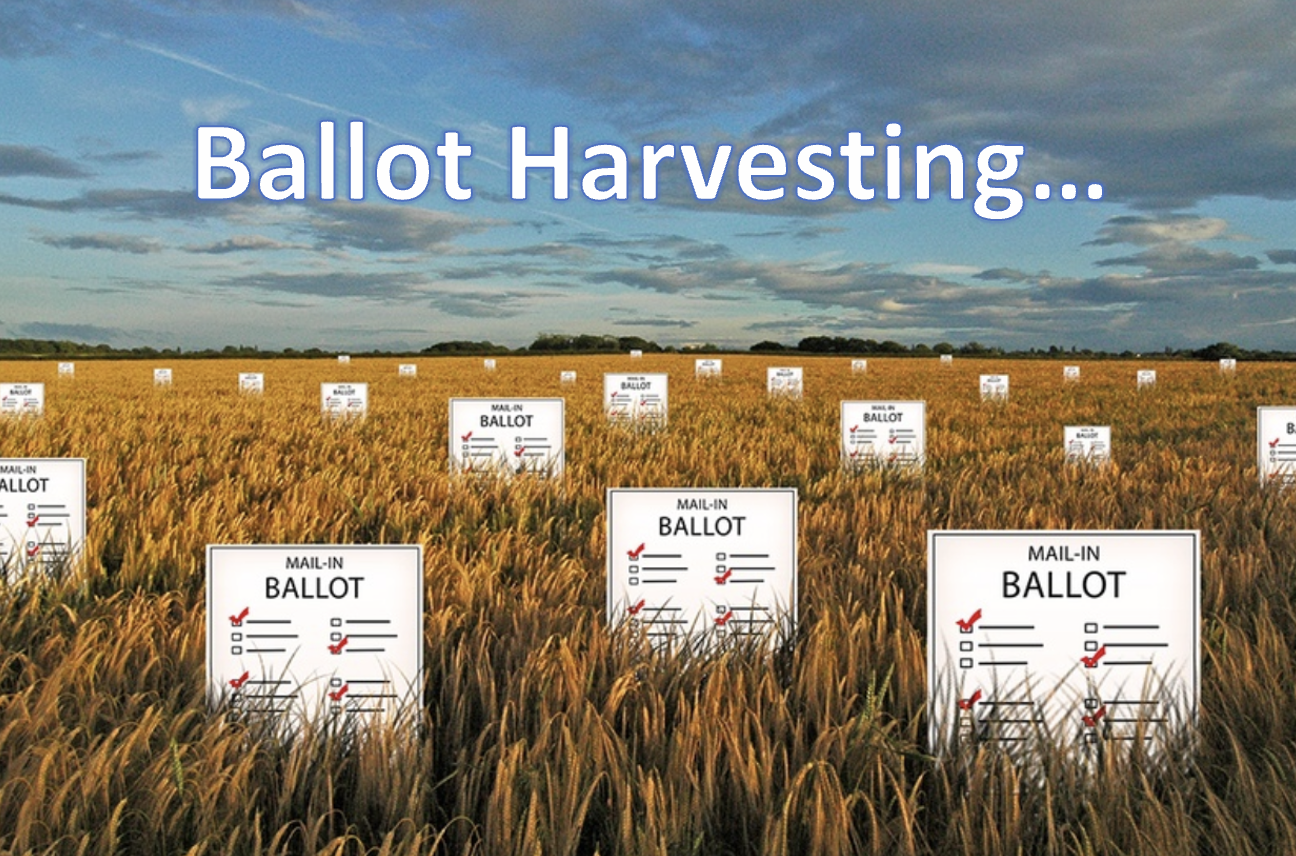 During the Primary Election close to 50% of Republicans and 70% of Democrat voters cast their votes using Vote By Mail (VBM) ballots. We can expect this trend to continue into the General Election. So it is imperative that we remain diligent in watching for irregularities with VBM ballots.
To do precisely that, we have obtained the most recent data (as of October 15, 2022) from Mike Bennet's office and then analyzed the number of VBM ballots mailed and those returned as undeliverable. A VBM ballot returned as undeliverable suggests that the voter's address of legal residence stored on the voter roll is inaccurate. We have provided the results of our analysis below for Manatee County-wide and specifically for those districts covering Amanda's and Cindy's races.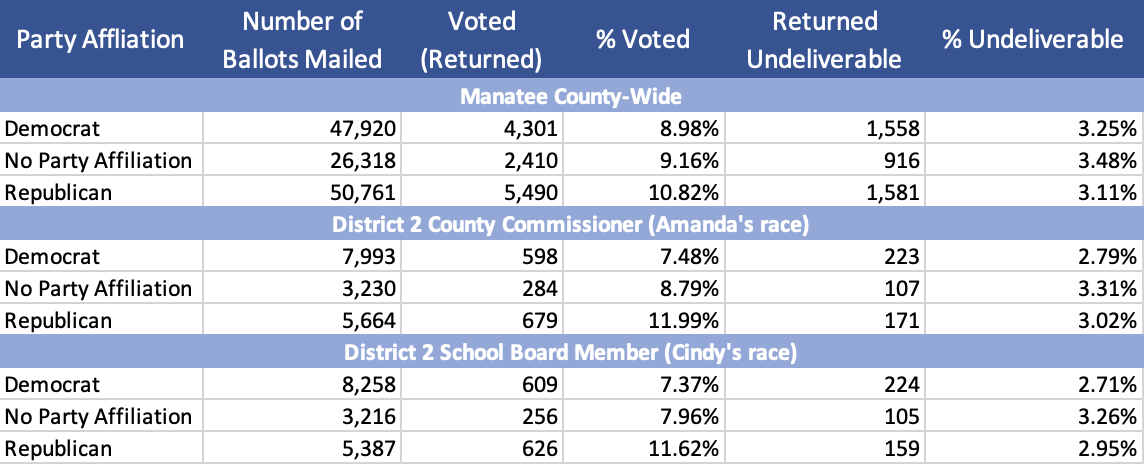 The data reveals that:
The percentage of VBM ballots which were returned are remarkably consistent.
By Party Affiliation, voters with No Party Affiliation have the highest number of undeliverable VBM ballots.
Surprisingly, Republican voters who have cast their votes using VBM ballots are currently out performing Democrat voters.
But it is still early in the election cycle. This is illustrated by the table below where the percentage of the electorate voting by mail is nowhere near what was experienced during the Primary Election.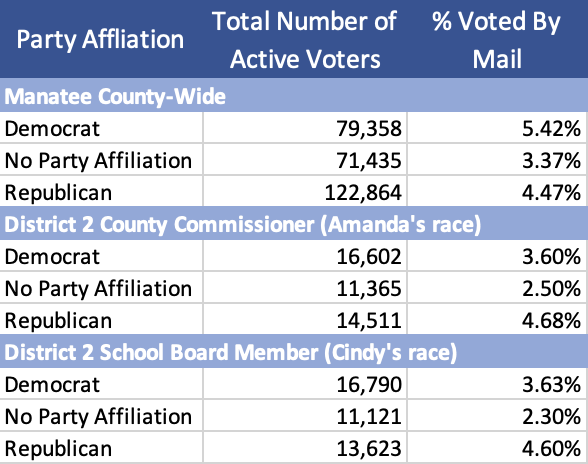 from Republican State Committeeman Dave Matthews
Calling All Patriots! Become a Poll Watcher on Election Day!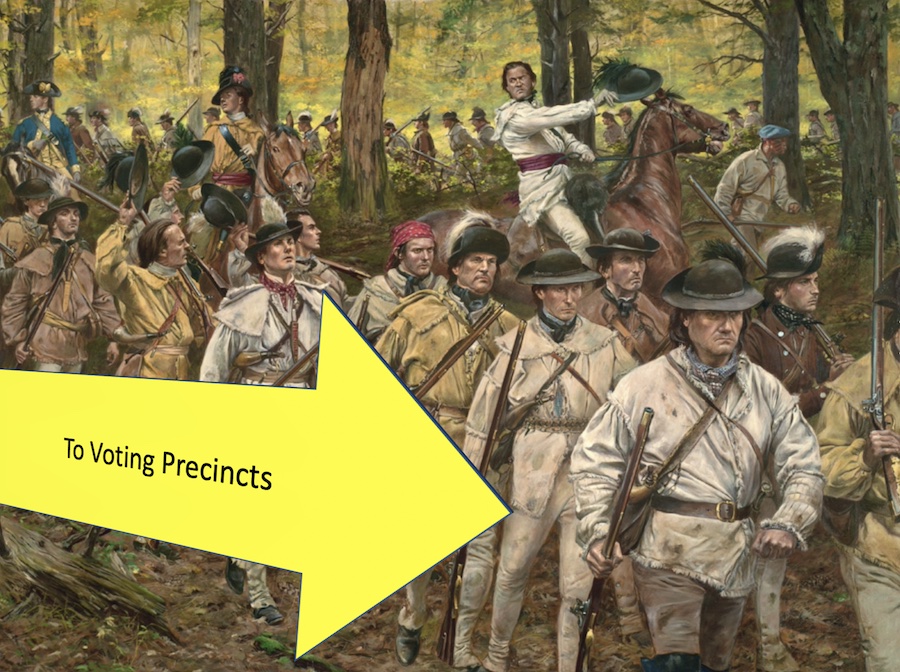 Election Integrity! Fair Elections!
These words should stir the heart of every Patriot!
The Republican Party of Manatee County is recruiting Poll Watchers. Florida Statute 101.131 allows us to have one Poll Watcher at each precinct. We currently have about 170 available time slots for poll watching but we only have about 100 available Poll Watchers. In order to provide 100% coverage of polling locations on Election Day we need approximately 80 more poll watchers. Please consider signing up!
What are the duties of a poll watcher and what support is available?
Training provided by the Republican Party will fully prepare you for working as a Poll Watcher. After training support is provided at the local and state level.
According to the Florida Statute a poll watcher may be present at any polling location anytime during the election. The poll watcher is trained by the Republican Party to observe for issues that may violate the election statute processes, resolve any issues identified with the Poll Clerk and report issues to our state election monitoring location. It's vitally important that the Republican Party know what issues are occurring so that challenges can be made during and after the election prior to certification of the election results.
Poll Watchers are restricted by election statute from engaging the voters or talking to others besides the Poll Clerk. Poll Watcher must not interfere with the election in any way.
What do I need to do to sign up?
Be a Register Republican in Manatee County
Sign a loyalty oath available at this website: click here.
Complete online Zoom training: click here.
What happens next?
Your name and information will be submitted to the Supervisor of Elections for Credentialing. This is due October 25 at the latest so we need you to sign up and complete the training before October 24 so we have time to process.
You will receive e-mails from Dave Matthews and Sign Up Genius providing information on how to self-schedule a particular slot time and location.
The SOE (Supervisor of Elections) Office will mail you a badge that you will use along with a photo ID to gain access to the polling place. This is sent US Mail typically a week before the election.
Additional emails will be sent with a poll watcher checklist and other helpful information.
For the primary we used a GroupMe texting service. We will be using a texting service (GroupMe or other) to augment our e-mail communication.
Remember Patriots, the only way to ensure Election Integrity and Fair Elections is for Patriots to get involved! We need eyes on the process so that we can verify that the election process is according to state statutes.
Can you spare a part of your day on November 8? Your family, friends and nation need you!
Just in time for the General Election
New App from Defend Florida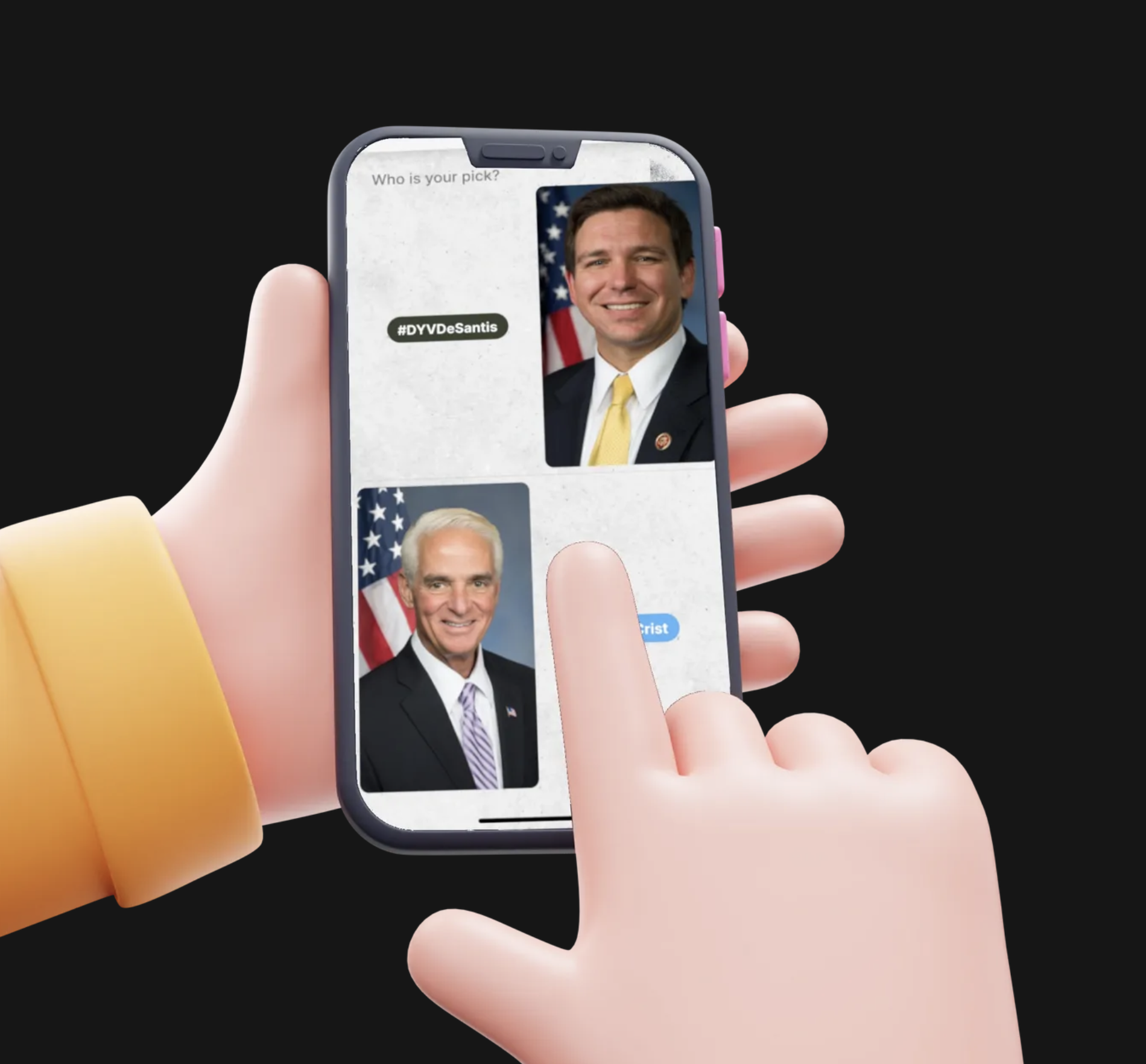 Our good friends at Defend Florida have just released a new app that will enhance the integrity of the Midterm election. It is based on the premise that if voters were to create a meme with the candidate for Florida Governor they voted for and post it on social media, fraudsters would be less likely to manipulate the vote. The application is easy and fun to use and is available for both Android and Apple users. To learn more about this innovative approach to election integrity, just click here.
You can download a copy of this flyer by clicking on the above image.
Florida Victory Campaign Continues

Saturday was a great day to go out and meet the neighbors. And that is exactly what the Manatee County Florida Victory team did! Volunteers knocked on scores of doors urging fellow registered Republicans to cast their vote for our Republican candidates on November 8. Back at MCREC headquarters, hundreds of calls were being made for the same reason.
You too can join in the fun! To participate, all you need to do is to:
The RPOF will provide you with further details once you are registered.
The RPOF is partnering with a number of organizations throughout Manatee County in this important effort. We are asking all Manatee Patriots subscribers to sign up today and become part of the victory in November!
from President Jack May
Manatee County Faith and Freedom Rally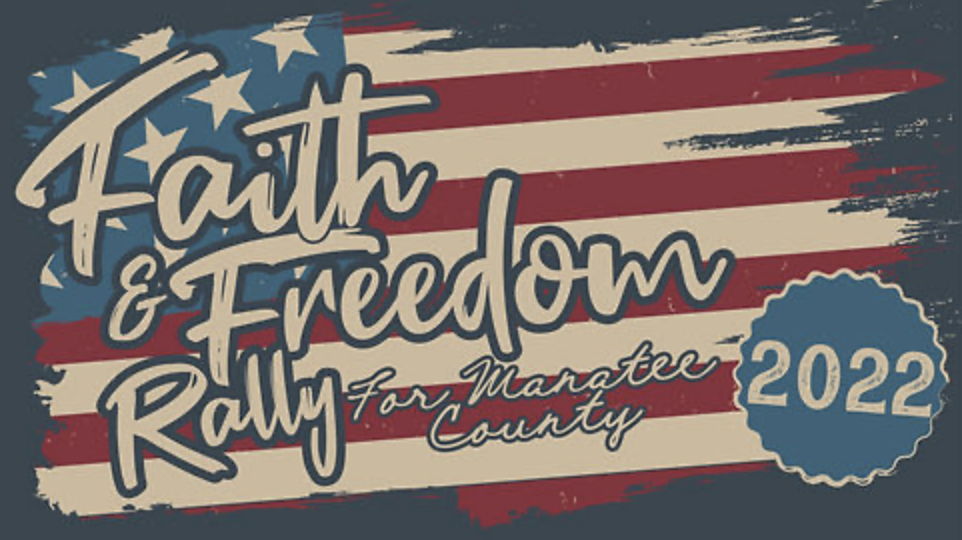 This is a reminder that Pastor Joel Tillis from Suncoast Baptist Church in Palmetto will attend our next meeting to give a three minute announcement on their up and coming Faith & Freedom Rally. This event is an old-fashioned tent meeting with singing, inspiring messages of hope and direction, fellowship, and a return to a simpler time and way of life. To learn more about this sensational event, simply click on the button below.
Hear Cathi Chamberlain on the Justin American Radio Hour
Don't miss the "thinking person's" conservative talk radio show, the Justin American Radio Hour. The show airs on AM 1490 Bradenton every Wednesday evening, from 8:05-9 pm Eastern time. You can also listen online at https://1490wwpr.com/listen-online-streaming/ and watch on Facebook Live, https://www.facebook.com/IamJustinAmerican/. For this upcoming show on Wednesday, October 19th, I welcome back to The Justin American Radio Hour Cathi Chamberlain, author of Rules for Deplorables and campaign strategist for Jeremy Brown - endorsed by the Republican Liberty Caucus of Florida - and currently being held in jail - unconstitutionally without bail! We will hear a recorded message from Jeremy, and then Cathi and I will discuss the progress and prospects of Jeremy's campaign. Keep on supporting patriotic small businesses and local media, and we'll see you on the airwaves!
To listen to past episodes of The Justin American Radio Hour, click here (https://www.podomatic.com/podcasts/justinamerican).
Join Us for Oktoberfest 2022!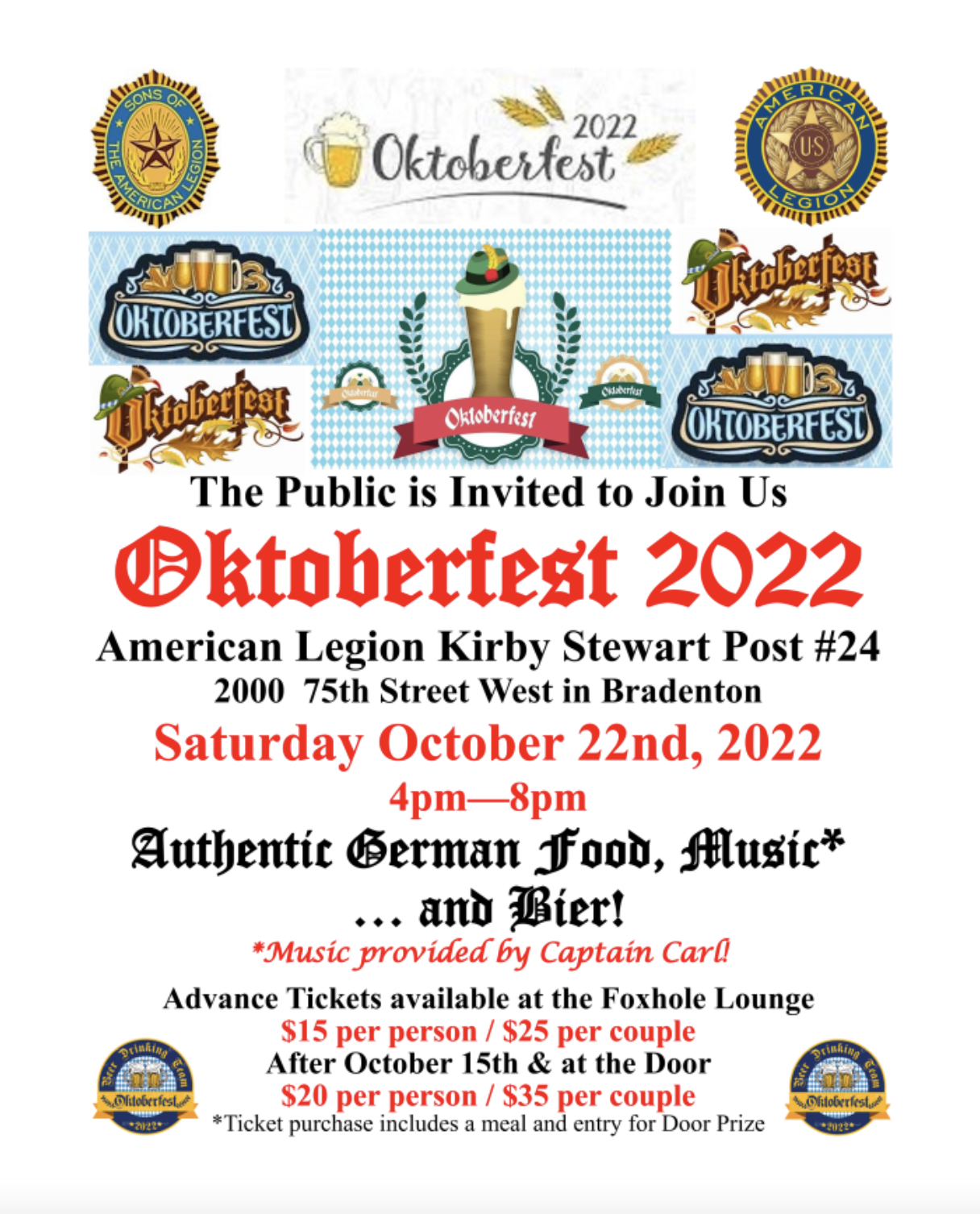 An Informed Citizenry is the best weapon against Tyranny!
Now more than ever, Conservatives need to be organized and informed. There still remains a number of Manatee Patriots subscribers missing vital information. So we are providing a link where you can update your information in order for us to keep you informed on important issues, meetings, and events. To do so, simply click this link.