Cathi Chamberlain rocked the house on Tuesday with her impassioned presentation of the plight of former Army Green Beret Jeremy Brown. Cathi explained that former Special Services Master Sergeant Brown has been jailed for over 375 days under the false pretenses of being a J6 "Conspirator" when in fact it was the FBI who approached him with a proposal to spy on conservatives. Needless to say, he turned down the FBI's offer and the rest is a sad history.
Yet in spite of this, Jeremy is now running for the Florida House in District 62 ...from prison! But while Cathi insists that his chances of winning are good, he does need our support. So please click on the graphic below to learn more about this heroic American and donate to his campaign.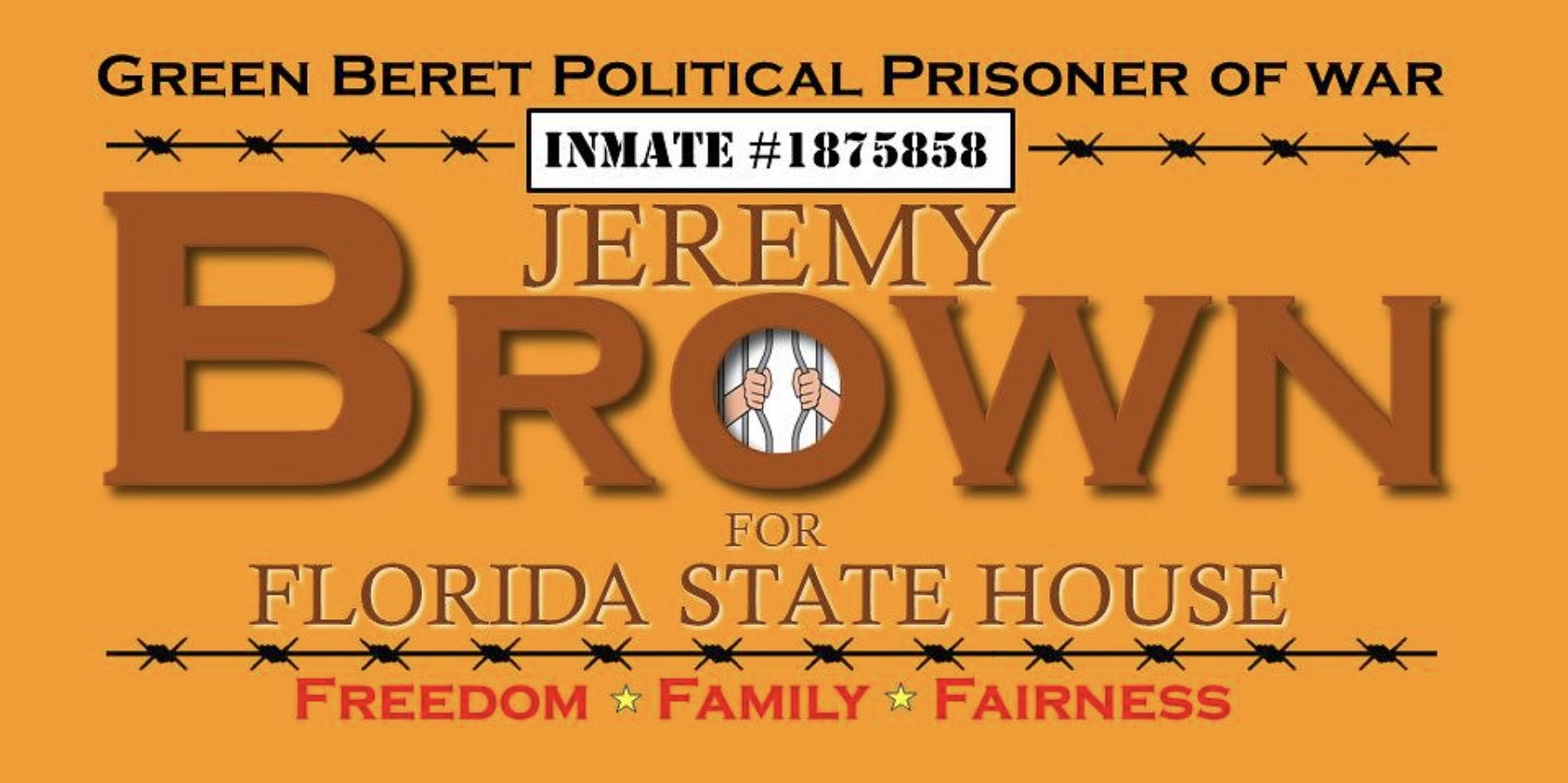 As usual, we have posted the video of Cathi's presentation on our website. To go there now and view the entire hour-long presentation, click on Cathi's picture below.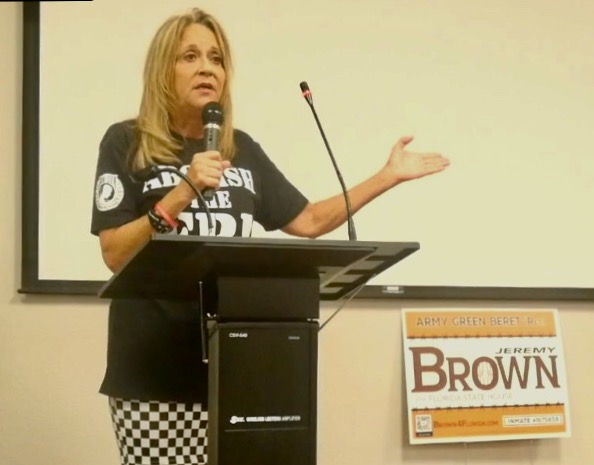 Our speaker next week will be Radio Host and Investigative Journalist James Grundvig. Mr. Grundvig is a former contributor to the Epoch Times and the author of "Master Manipulator: The Explosive True Story of Fraud, Embezzlement and Government Betrayal at the CDC." He lives and works in New York City. You won't want to miss this presentation, so be sure to come to Mixon Fruit Farms next Tuesday at 6pm.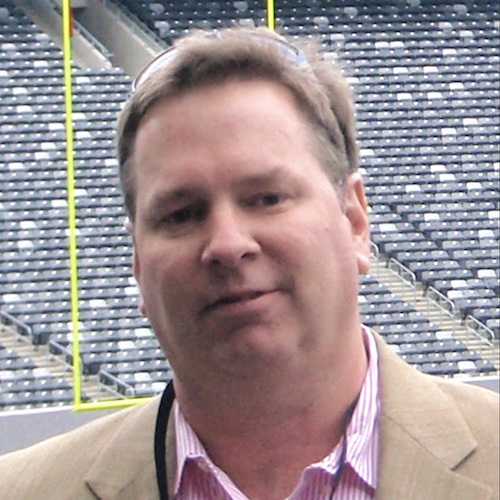 In this Email
It's Official! The Manatee Republican Party 2022 Voter Guide Is Here!
Confused Over the November 8 Ballot Initiative?
Calling All Patriots! Become a Poll Watcher on Election Day!
Update On Voting in the Wake of Hurricane Ian
Florida Victory Campaign Continues
Support All Our Republican Candidates
Keep Up On Ken Harrelson's and the Oath Keepers Trial
Manatee County Faith and Freedom Rally
Fundraising Event for Gov. Ron DeSantis, October 21
Join Us for Oktoberfest 2022
Next Meeting Details:
Who: James Grundvig
When: Tuesday, October 18 at 6pm
Where: Mixon Fruit Farms
2525 27th Street East, Bradenton, FL 34208
It's Official! The Manatee Republican Party 2022 Voter Guide Is Here!
We are pleased to provide the official Voter Guide for the 2022 General Election released by the Republican Party of Manatee County. We strongly urge that you share this with your friends and families as well. To download a copy simply click on the image below.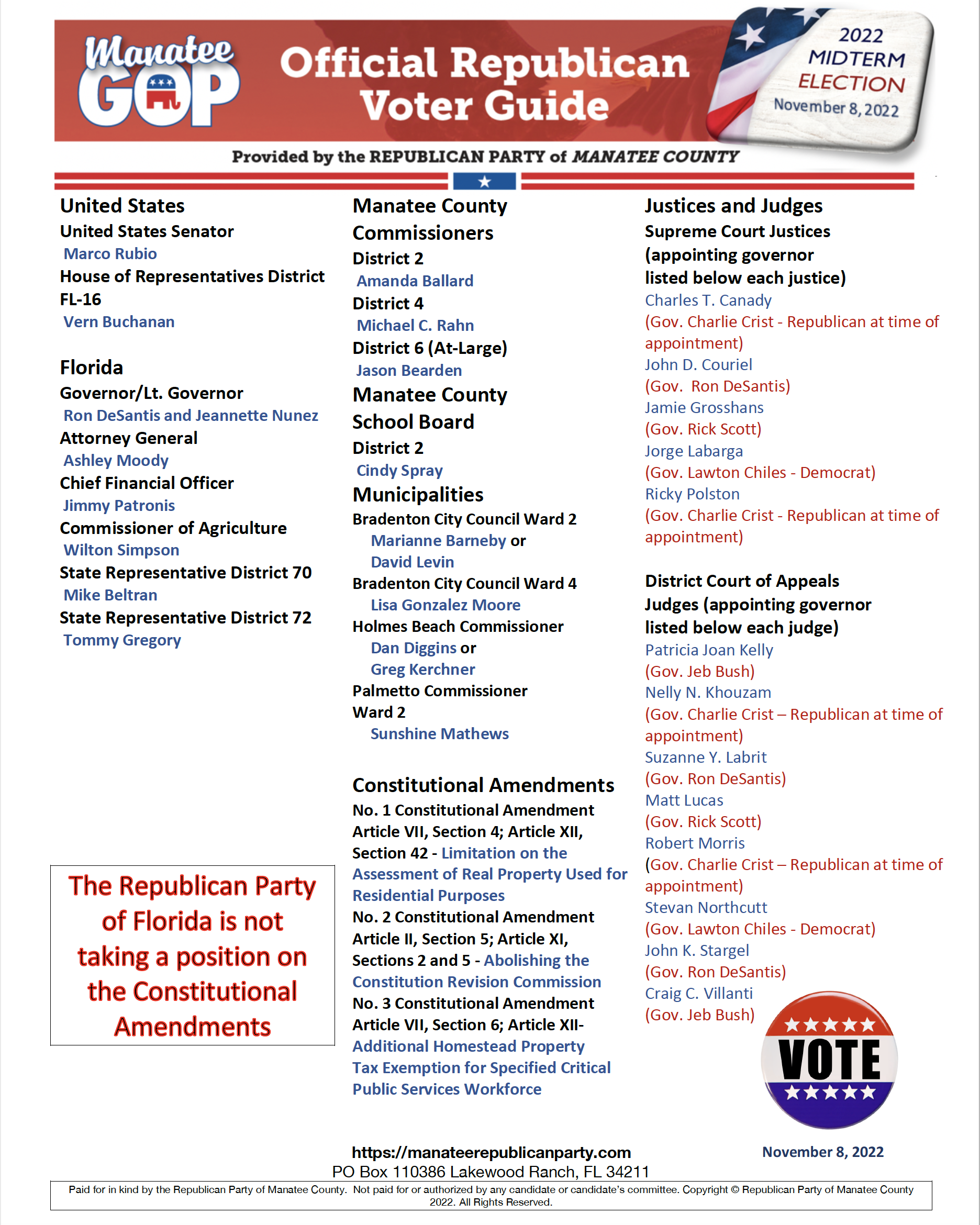 Confused Over the November 8 Ballot Initiatives?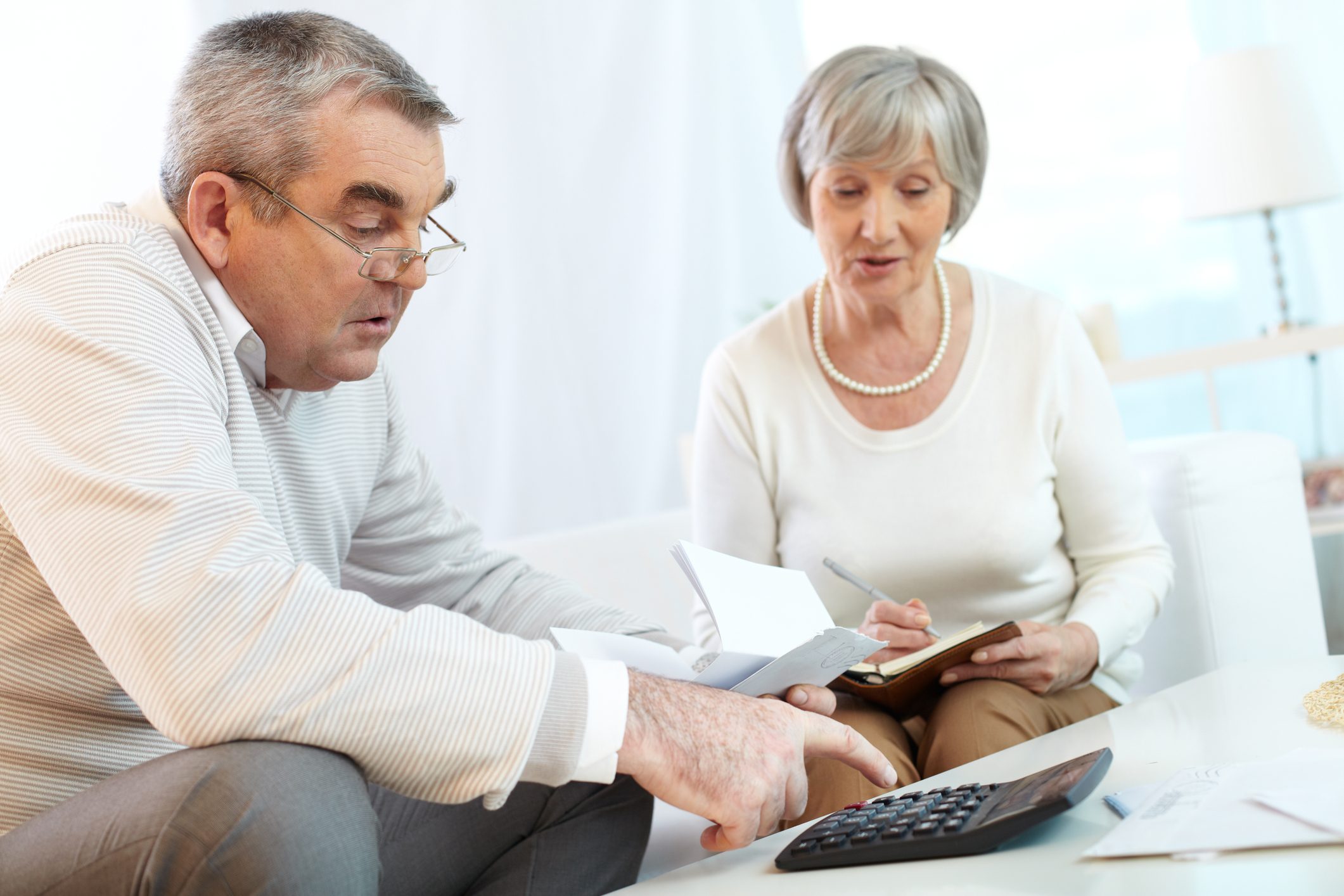 Fret not! We have compiled a list of useful resources to help you decide on the proposed changes to the Florida State Constitution. And we have also included material on the Supreme Court Justices and Second District Court of Appeals who are facing a retention vote along with the name of the Florida Governor who appointed each of them! All of this great information has been conveniently assembled on our website. To access these files, kindly click on the button below.
from Republican State Committeeman Dave Matthews
Calling All Patriots! Become a Poll Watcher on Election Day!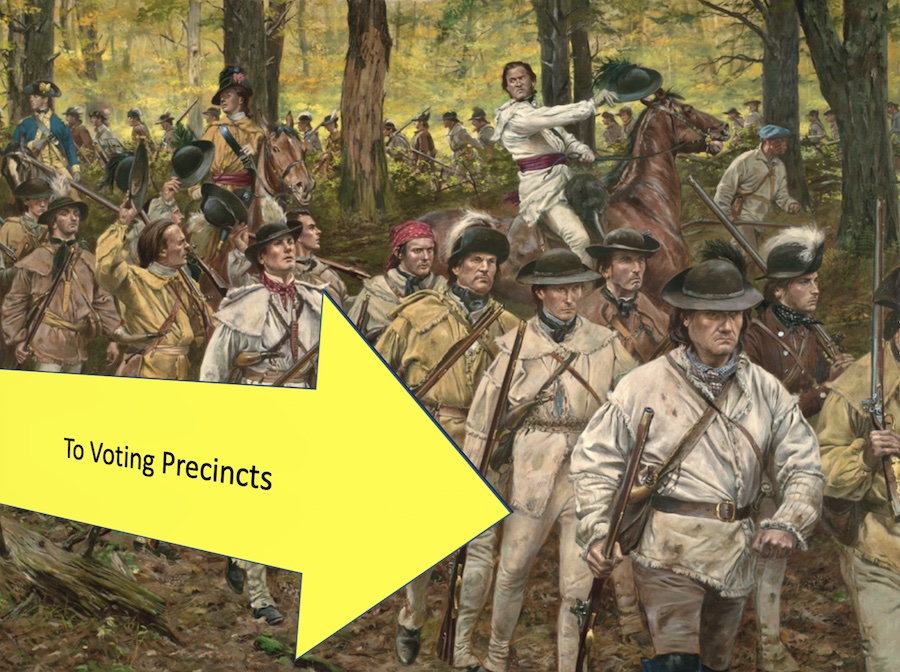 Election Integrity! Fair Elections!
These words should stir the heart of every Patriot!
The Republican Party of Manatee County is recruiting Poll Watchers. Florida Statute 101.131 allows us to have one Poll Watcher at each precinct. We currently have about 170 available time slots for poll watching but we only have about 100 available Poll Watchers. In order to provide 100% coverage of polling locations on Election Day we need approximately 80 more poll watchers. Please consider signing up!
What are the duties of a poll watcher and what support is available?
Training provided by the Republican Party will fully prepare you for working as a Poll Watcher. After training support is provided at the local and state level.
According to the Florida Statute a poll watcher may be present at any polling location anytime during the election. The poll watcher is trained by the Republican Party to observe for issues that may violate the election statute processes, resolve any issues identified with the Poll Clerk and report issues to our state election monitoring location. It's vitally important that the Republican Party know what issues are occurring so that challenges can be made during and after the election prior to certification of the election results.
Poll Watchers are restricted by election statute from engaging the voters or talking to others besides the Poll Clerk. Poll Watcher must not interfere with the election in any way.
What do I need to do to sign up?
Be a Register Republican in Manatee County
Sign a loyalty oath available at this website: click here.
Complete online Zoom training: click here.
What happens next?
Your name and information will be submitted to the Supervisor of Elections for Credentialing. This is due October 25 at the latest so we need you to sign up and complete the training before October 24 so we have time to process.
You will receive e-mails from Dave Matthews and Sign Up Genius providing information on how to self-schedule a particular slot time and location.
The SOE (Supervisor of Elections) Office will mail you a badge that you will use along with a photo ID to gain access to the polling place. This is sent US Mail typically a week before the election.
Additional emails will be sent with a poll watcher checklist and other helpful information.
For the primary we used a GroupMe texting service. We will be using a texting service (GroupMe or other) to augment our e-mail communication.
Remember Patriots, the only way to ensure Election Integrity and Fair Elections is for Patriots to get involved! We need eyes on the process so that we can verify that the election process is according to state statutes.
Can you spare a part of your day on November 8? Your family, friends and nation need you!
Update On Voting in the Wake of Hurricane Ian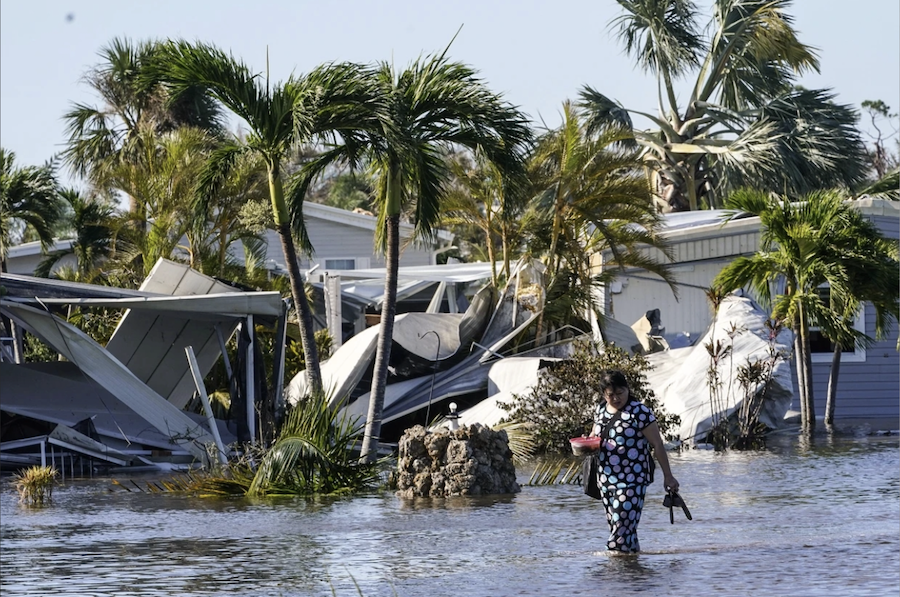 Since our last issue, Manatee Patriots subscriber and Election Integrity Action Team member Shelly Kennedy reached out to the SOE's in those counties most impacted by Hurricane Ian: Sarasota, Charlotte, Lee and Collier. The following are the responses she has received.
Response from Charlotte County:
Dear Ms. Kennedy,

Thank you for your thoughtful email.

All of your suggestions are already in the pipeline.

Look for the results later this week.

Paul

Hon.Paul A.Stamoulis
Master Florida Certified Election Professional
Supervisor of Elections
941-833-5400
www.soecharlottecountyfl.gov
Response from Lee County:
Due to Hurricane Ian, all offices of the Lee County Supervisor of Elections are currently closed.
We will resume regular business operations at the Main Office, Bonita Springs branch and the Lee County Elections Center South Fort Myers branch on Wednesday, October 12.
The Cape Coral branch is closed until further notice. We will monitor the situation as it evolves and provide periodic updates on the reopening of the branch. We are taking these measures to ensure the safety of our staff and the public."
https://www.lee.vote/Home/Supervisors-Message-to-Voters
https://www.lee.vote/Home/Post-Hurricane-Election-Information

https://about.usps.com/newsroom/service-alerts/residential/welcome.htm
Response from Sarasota County:
Shelly:

We are continuing to work with the Secretary of State and Florida Division of Elections to respond to the impacts of Hurricane Ian on voters and election office, preparation and sites. We have staff on site with disaster relief resources in south Sarasota County at Shannon Staub Library to provide in person assistance. We also have information on our website: https://www.sarasotavotes.gov/Next-Election. Currently, we are assessing early voting and election day locations to determine any impacts and will communicate that information with voters as soon as it is finalized. I can assure you that we will do everything possible to ensure that all voters have an opportunity to cast a ballot in the coming general election.

Best regards,

Ron Turner

Supervisor of Elections

101 S. Washington Blvd, Sarasota, FL 34236






As of this writing no responses were reported by Shelly from Collier county. We will continue to monitor the situation and report on any changes.
All of the affected counties represent strong Republican areas.
We can only pray that this is not the "October Surprise" the Democrats were hoping for.
Support All Our Republican Candidates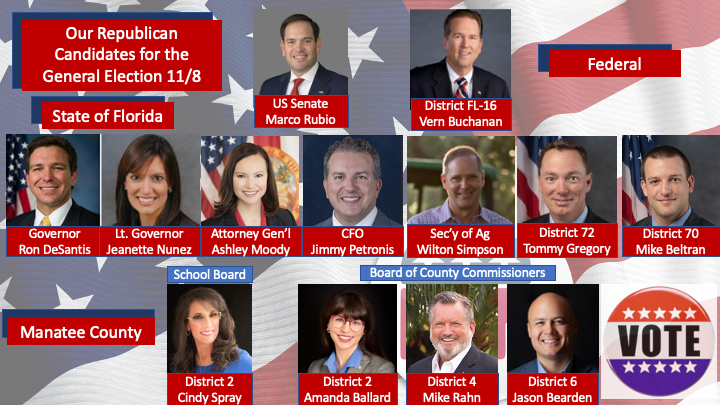 Keep Up On Ken Harrelson's and the Oath Keepers Trial
Retaining a focus on the defense of J6 victims, Steve Baker - the Pragmatic Constitutionalist - has provided a summary of the trial underway for Ken Harrelson and the Oath Keepers. To view the video on Rumble.com, just click on the image below.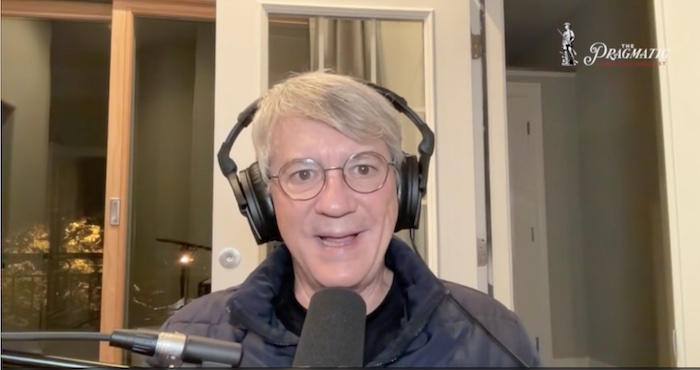 Florida Victory Campaign Continues

Phones are buzzing, doors are being knocked on and DeSantis and Rubio signs are sprouting up everywhere! Those are the signs of the Florida Victory campaign.
Organized by our friends Alice Rothbauer and Marcia Nelson of the Republican Party of Florida (RPOF), this campaign focuses on two activities:
Neighborhood Canvassing in your Precinct (Door-to-door talking with your neighbors)

Phone Banking (Reaching out by phone to encourage Republicans to vote)
The RPOF is using the Campaign Sidekick application to facilitate and manage these activities.
To participate, all you need to do is to:
The RPOF will provide you with further details once you are registered.
The RPOF is partnering with a number of organizations throughout Manatee County in this important effort. We are asking all Manatee Patriots subscribers to sign up today and become part of the victory in November!
from President Jack May
Manatee County Faith and Freedom Rally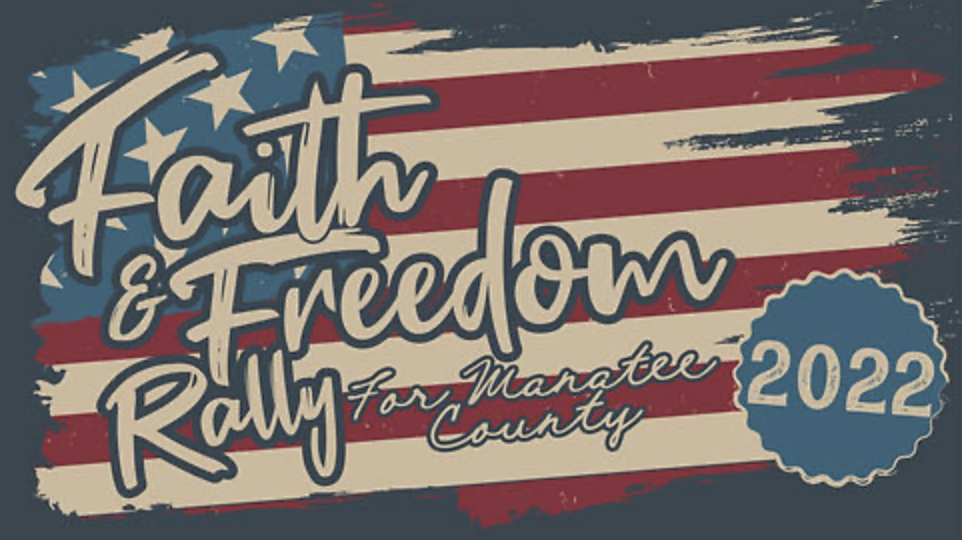 Pastor Joel Tillis from Suncoast Baptist Church in Palmetto will attend our next meeting to give a three minute announcement on their up and coming Faith & Freedom Rally. This event is an old-fashioned tent meeting with singing, inspiring messages of hope and direction, fellowship, and a return to a simpler time and way of life. To learn more about this sensational event, simply click on the button below.
Join Us for Oktoberfest 2022!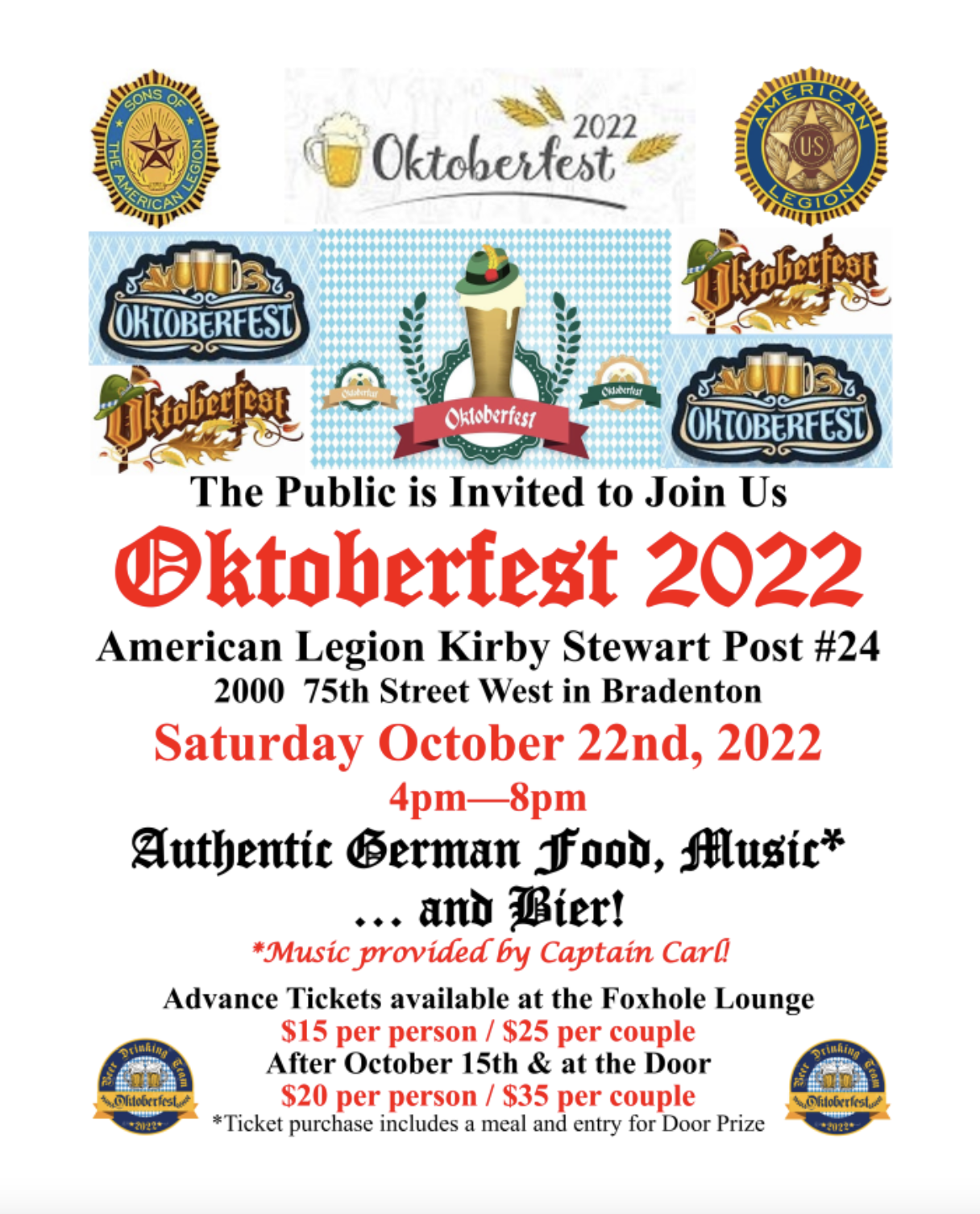 An Informed Citizenry is the best weapon against Tyranny!
Now more than ever, Conservatives need to be organized and informed. There still remains a number of Manatee Patriots subscribers missing vital information. So we are providing a link where you can update your information in order for us to keep you informed on important issues, meetings, and events. To do so, simply click this link.